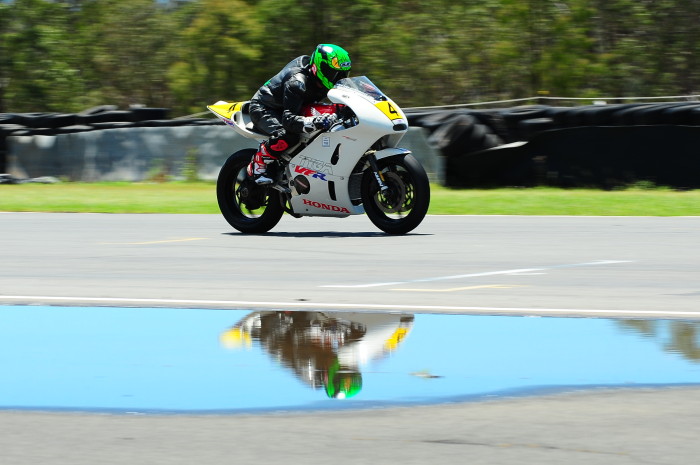 November 7 and 8 was the last round in our 5 series championship for 2015. We arrived late Friday night after surviving some huge thunderstorms just before Warwick. We were hoping that it would be fine for the weekend as storms and rain were predicted.
We were competing in the final round of Formula 3 and Formula 4 club championships  and the carrollraceteam was leading both classes at the end of round 4.  Saturday morning arrived with fine and hot weather and the bike was taken for scrutineering. The rider's briefing was conducted and all was ready to go. Qualifying was first up on Saturday morning with Formula 4 out first and racing starting after lunch. It had been nearly 9 weeks since our last race so for the first qualifying I just took it easy and got back into the rhythm.  The bike was going well and after a few small suspension adjustment to the rear, I had the bike feeling pretty good.
After both sessions for F3 and F4 had finished I had qualified in pole for F4 with a time of 1:26.9 and pole for F3 with a time of 1:27.3,  but was in position 6 due to the combined classes.  Pole position in F3/F6 was left empty out of respect for two of our regular riders who had recently passed away.
Even though I was leading F4 and needed to finish in front of Simon Dickson to secure first overall, I was reminded of last year when in second position and hoping to win a few races, I had bike troubles due to the heat.  I ended up finishing about 7th in that race and changed to my spare bike for the next race. Coming out of turn #6 the right side rearset bolt was loose and the peg fell off pulling the brake fluid reservoir off and spilling brake fluid over the rear tyre.  Down the road I went and in doing so ruined any chance of first place for 2014. Hopefully this year was going to be a bit kinder.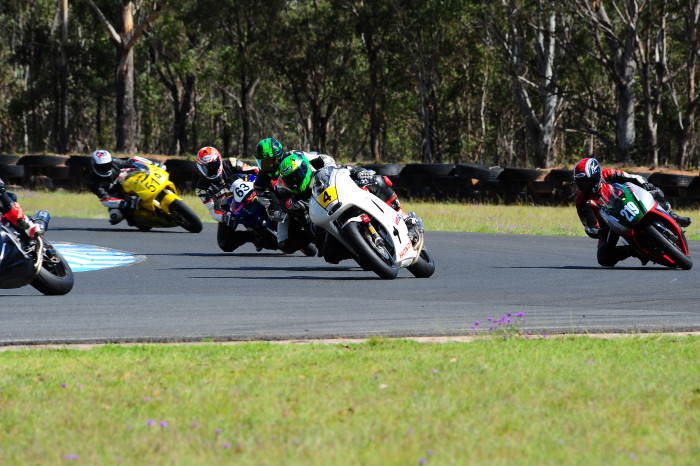 Formula 4: 7 Laps,  First race of the day and as usual I had a poor start and was fourth at the first turn. It was already over 30 degrees by now and the track was a little greasy so I decided to follow and see if I could run the same pace as the leaders. There was a bit of jostling for the lead so this helped me to catch them up. I didn't want to do anything foolish so I waited until I could do a clean pass on each rider.  By lap 4 I was in front and was then able to run at a pace that I could maintain until the completion of the race.
Formula 3: 7 Laps-  The weather was by now getting even hotter and I needed to finish in first place for our class in order to secure enough points to win the F3 Championship for the carrollraceteam.com for 2015.
At the start I was passed by Mark and I was lucky enough to get past him by turn 2 as he was held up by another rider.  This allowed me to go around the outside and slot in behind a faster F6 bike. This allowed me to gain a small gap and from then on I was able to get into a rhythm and slowly catch Sean Oeser on a Aprillia SVX550 and pass him a few laps before the finish. This gave me the win and if my calculations were correct, the F3 Championship!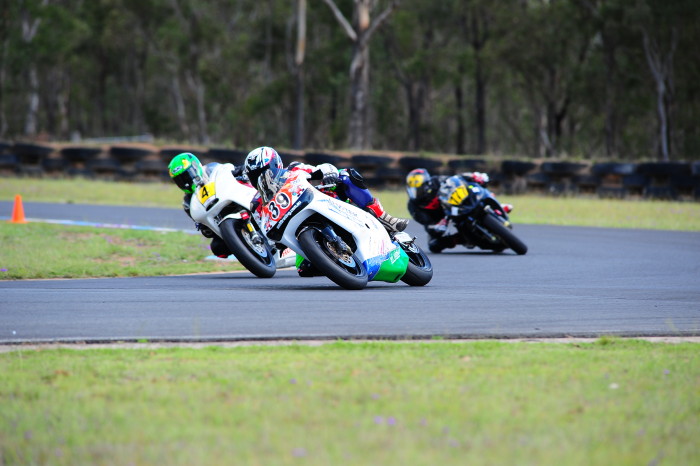 Formula 4: 10 Laps- There wasn't much time between races so I quickly changed the front and rear wheels for a new set of tyres. What I had forgotten to do was top up fuel and once out of the pit gate realised my mistake. I got off to a reasonable start and clicked up to second only to find it jumped out and I was back to fourth place again. Chris Dunster (RVF400) and Leigh Holmes (Kawasaki SP400), Simon "sneaky" Dickson (CBR250RR) and "Mojo" Webb (VFR400) were all in front with Chris starting to pull a bit of a lead by turn 7.  Lucky for me it was ten laps so I started to gain on Simon after the first lap and passed on turn 8 and then overtook Leigh who ran wide on turn 10.  Next lap I passed Mojo on turn 10 and then chased Chris and finally passed up the inside on turn 4 under brakes. After passing Chris I tried to put in 2 faster laps on new tyres in order to pull a gap for the last 5 laps. With 3 laps to go I slowed a little and then was passed again by Simon. I knew he would try and pull some fast laps so I hung on to the rear of his bike and was planning to pass him on the straight just before the finish line.  I managed to do so,  only winning by 00.126 of a second and didn't run out of fuel!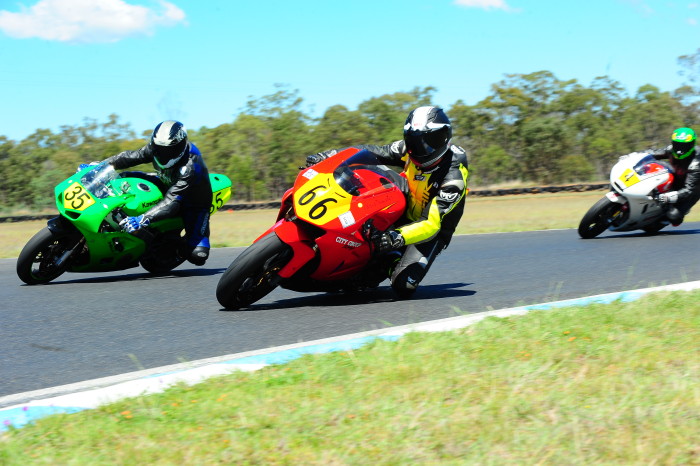 Formula 3: 10 Laps- The weather now was in the mid 30's and after doing the 10 lap race previously I was starting to  get a little tired. My start was okay and by turn 6 I was behind Sean Oeser and I started to just follow him and see if there were any points on the track where I could pass.
His bike has a lot of torque out of the corners so if I did pass it had to be a good one as he could just power past before the next corner. Luck was on my side and with 3 laps to go his gear lever came loose and so all he could do was remain in fourth gear. This enabled me to pass down the back straight and take the win in F3.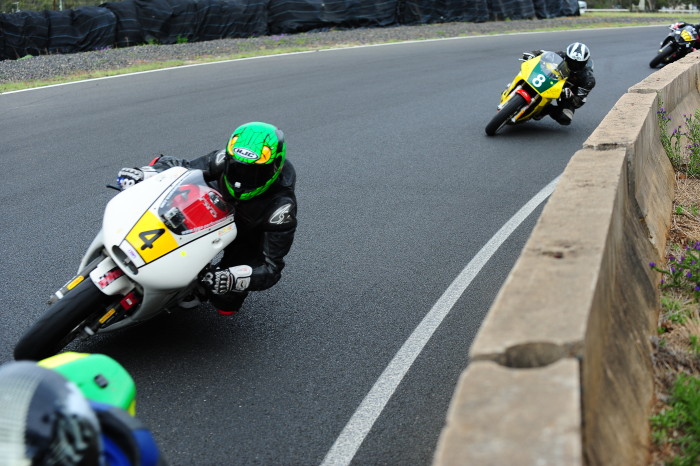 Formula 4: 6 Laps- This was my last race for 2015. With my signature start from pole position to third in 10 metres, I wanted to finish on a high. I followed the two riders in front and eventually passed one rider just before  the red flag was being waved for one of our new VFR400 riders Mike Frost. He had run off into turn 3 and crashed near the side of the track. We all came back and waited to be told what was happening.  It was now only a 5 lap race and we grided up again.  All went to plan in that race and I finished in first place, therefore winning the Formula 4 Championship. I had already accumulated enough point in Formula 3 to win the Championship so I decided to sit out of the last race.
It has been a fantastic year and I am grateful to all the other riders who have pushed me to be able to go faster than I thought was possible. We have also met new people and made friendships with a whole mix of people who also have a love of racing motorcycles.  Many thanks must go to the following:
Our club motorcyclesportsmen.com.au who always run a professional and fantastic series.
The flaggies and all volunteers who work on their days off at each race meeting so we can enjoy safe and fun race meets.
My wife Sheree for all her support throughout the season.
tygaperformance.com for their assistance in keeping our team looking good all year. Check out their website!
Wayne Reed from osellaphotographics.com.au for his fantastic photos all year.
To conclude, here is a list of some of my achievements for 2015 and a review of the year that was.
Pirelli Masters: P6 250-500- 1st
Pirelli Masters: P6 up to 250cc- 3rd
ASBK: Formula 3- 1st
QRRC: Formula 3- 1st
Southern Downs Road Race Series Formula 3- 1st
Southern Downs Road Race Series Formula 4- 1st
AMCN Phillip Island Classic P6  500- 7th
Phillip Island Classic  P6 250- 5th
Barry Sheene Festival of Speed  P6 500- 4th 
Barry Sheene Festival of Speed P6 250- 5th