Carroll Race Team is a husband and wife who share a passion for racing motorcycles. I race the bikes and my wife manages all the associated running of our team.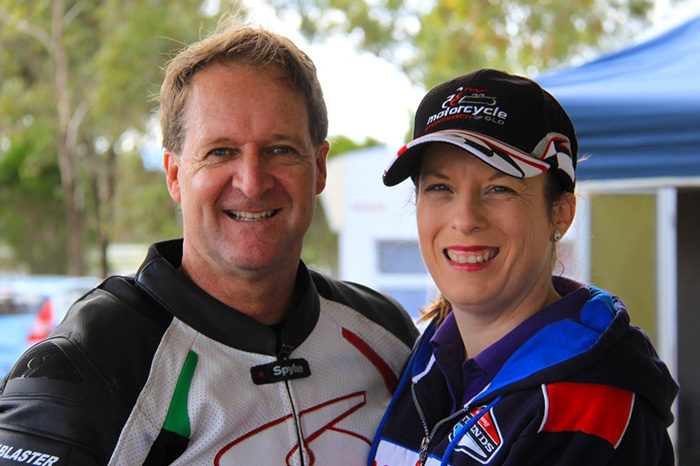 We started with just 1 x 1990 Honda VFR400RR and now have 7.   5 x Honda VFR400's, 2 x Honda RVF400 and 1 x Honda CBR 250RR
They are raced at club and national level and we also supply 2 for other riders in events. We started our first year racing 10 years ago with no real knowledge of bikes or competition racing and have progressed to being able to win at club events and national titles.   
2023″ E"TRACK LAP RECORD. 108.731 
2023 Queensland Historic Road Race Championship. P6 750. 2nd PLACE
2023 Queensland Historic Road Race Championship. P6 500. 1ST PLACE
2023 Masters of Morgan Park. PRE 2K UP TO 400CC. 3rd Place.
2023 Masters of Morgan Park . P6 500. IST PLACE.
2022 Australian Historic Road Race Championship . Lap record. 1.24.001                                                                    
2022 Australian Historic Road Race Championship. P6 500. 1 ST PLACE
2022 Queensland Historic Road Race Championship. P6 Formula 750. 2ND PLACE
2022 Queensland Historic Road Race Championship. P6 500. 1ST PLACE
2021 Queensland Historic Road Race Championship. P6 Formula 750. 1ST PLACE                                                  
2021 Queensland Historic Road Race Championship. Period 6 500. 1ST PLACE
2020 Queensland Historic Road Race Championship. Period 6 500. 1ST PLACE
2020 Southern DownsRoad Race Series. Sports 400. 1st PLACE
2020 Southern Downs Road Race Series.Formula 4. 1st PLACE
2019 Southern Downs Road Race Series. Sports 400 3rd PLACE
2019 Sports 400 Lap record holder. 1:24.122
2019 Queensland Road Race Championship Sports 400: 2nd PLACE
2019 Queensland Road Race Championship Formula 4: 3rd PLACE
2019 Masters of Morgan Park P6 500: 2nd PLACE.
2019 Masters of Morgan Park P6 500 Gregg Hansford Trophy: 2nd PLACE  
2019 Masters of Morgan Park Pre 2k up to 500cc 3rd PLACE
2018 Motorcycle Sportsmen of Queensland rider of the year .
2018 Southern Downs Road Race Series Pre 2K Formula 2: 1st PLACE
2018 Southern Downs Road Race Series Formula 4: 1st PLACE
2018 AMCN Phillip Island Classic P6 500: 5th PLACE
2018 AMCN Phillip Island Classic P6 750: 7th PLACE
2018 Masters of Morgan Park P6 500 Gregg Hansford Trophy: 1st PLACE 
2018 Masters of Morgan Park P6 500 Gregg Hansford Trophy 1st PLACE
2018  International festival of Speed P6 500:4th PLACE
2018 Masters of Morgan Park P6 250 Production: 4th PLACE
2018 QHRRC P6 500: 1st PLACE
2018 QHRRC P6 500: 1st PLACE
2018 International Festival of Speed Formula 3: 2nd PLACE
2017 Gregg Hansford Trophy event up to 500cc: 2nd PLACE
2017 QHRRC P6 250 Production: 3rd PLACE
2017 International Festival of Speed Formula 3: 1st PLACE
2017 International Festival of Speed Formula 3: Lap Record holder @ 1:45.523 
2017 International Festival of Speed Formula  P6 500: 4th PLACE
2016 Southern Downs Road race Series P6 250 Production: 4th PLACE
2016 Southern Downs Road Race Series Formula 4: 1st PLACE
2016 Shorai Batteries International Challenge New Zealand Formula 3: 1st PLACE
2016 Masters of Morgan Park P6 250 Production: 2nd PLACE
2016 Masters of Morgan Park P6 500 Gregg Hansford Trophy: 2nd PLACE
2016 Masters of Morgan Park P6 500: 2nd PLACE
2016 Masters of Morgan Park P6 500:  former Lap record holder @ 1:24.9
2016 Barry Sheene Festival of Speed P6 250 Production: 4th PLACE
2016 Barry Sheene Festival of Speed P6 500: 3rd PLACE
2015 Pirelli Masters: P6 250 – 500: 1st PLACE
2015 Pirelli Masters: P6 up to 250cc: 3rd PLACE
2015 ASBK Formula 3: 1st PLACE
2015 QRRC Formula 3: 1st PLACE
2015 Southern Downs Road Race Series Formula 3: 1st PLACE
2015 Southern Downs Road Race Series Formula 4: 1st PLACE
2015 AMCN Phillip Island Classic P6 500: 7th PLACE
2015 Phillip Island Classic P6 250: 5th PLACE
2015 Barry Sheene Festival of Speed P6 500: 4th PLACE
2015 Barry Sheene Festival of Speed P6 250: 5th PLACE
2015 Australian Superbike Championship @ Morgan Park : Formula #3 : 1st PLACE
2014 Qld Road Racing Championship: 4th highest point score overall
2014 Southern Downs Road Race Series Formula 3 Championship: 2nd PLACE
2104 Pirelli QLD Road Race Championship Formula 3: 2nd PLACE
2014 Southern Downs RoadRace Championship Formula 4: 2nd PLACE
2014  P6 500 Lakeside Park QLD:  revised track. Lap record holder @ 1.07.06
2014 Formula 4: Former Lap record holder @ 1:25.1 
2014 Pirelli Masters Morgan Park QHRRC Period 3 Formula 750: 1st PLACE
2014 Shannons Australian Historic Road Race Championships, Lakeside Park QLD Period 6 500 Senior: 1st PLACE
2013 Southern Downs QLD Formula 4 Championship: 3rd PLACE
2013 Southern Downs QLD Formula 4 Championship: 2nd PLACE
2013 Southern Downs QLD Formula 3 Championship: 2nd PLACE
2013 Pirelli Masters Morgan Park QHRRC Period 6 Unlimited: 1st PLACE
2012 QLD Road Race Championship Formula 3: 3rd PLACE
2012 Pirelli Masters Morgan Park QHRRC Period 6 up to 500cc: 2nd PLACE
2012 QLD Road Race Championship Formula 3: 3rd PLACE