A garage full of beautiful Honda VFR and RVF 400's
May 18th and 19th was the annual Motorcycle Sportsmen of QLD'S, Masters of Morgan Park round @morgan park raceway for the year. It is also included rounds for the QLD Historic and B.E.A.R.S racing and Australian Sidecar Championship. I had entered the Period 6 500 cc QLD championship on my Honda VFR 400 and Pre2k up to 500ccc on my Honda RVF 400. There was also the Gregg Hansford feature race comprising of 2 races, one Saturday and one on Sunday.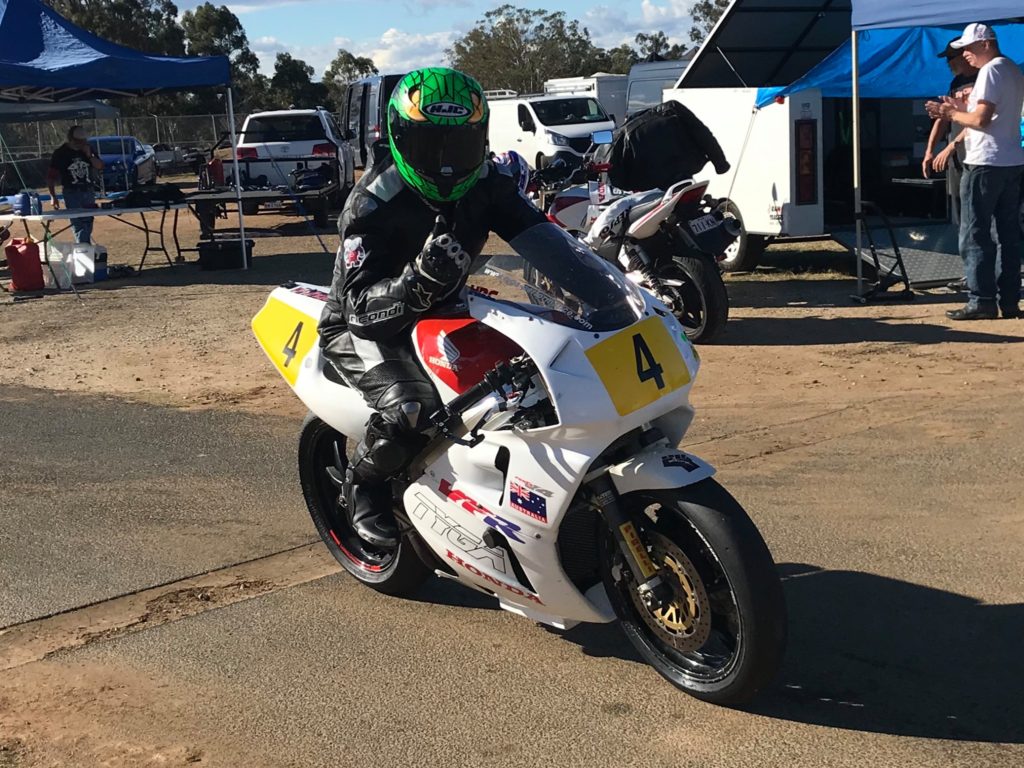 We arrived Friday afternoon and set up ready for an early start on Saturday morning. The weather at Warwick this time of year can be very cold but we were treated to very sunny and warm days. Pretty well perfect for racing. Qualifying was first up and Pre 2k was first followed by P6 500. I qualified first in my class and 6th on the shared grid with Pre 2k up to 1300cc. I also qualified 1st in P6 500. Pre2k up to 500cc time:1:26.274 and P6 500: 125.714. I was pretty happy with those time seeing I hadn't ridden on this track since November last year.
First race out was Pre 2k up to 500cc and I was starting 6th on the grid in a combined class. Very daunting when a lot of the bikes further behind have more than twice the horsepower. Starts are crazy with bikes flying past and then coming into the first corner, braking heavily in front of you and all your corner speed is gone and then they power away only for you to catch up in the next braking area. Its a bit like an elastic band being stretched and then let go. This made overtaking nearly impossible. I finished 6th outright and 1st in my class.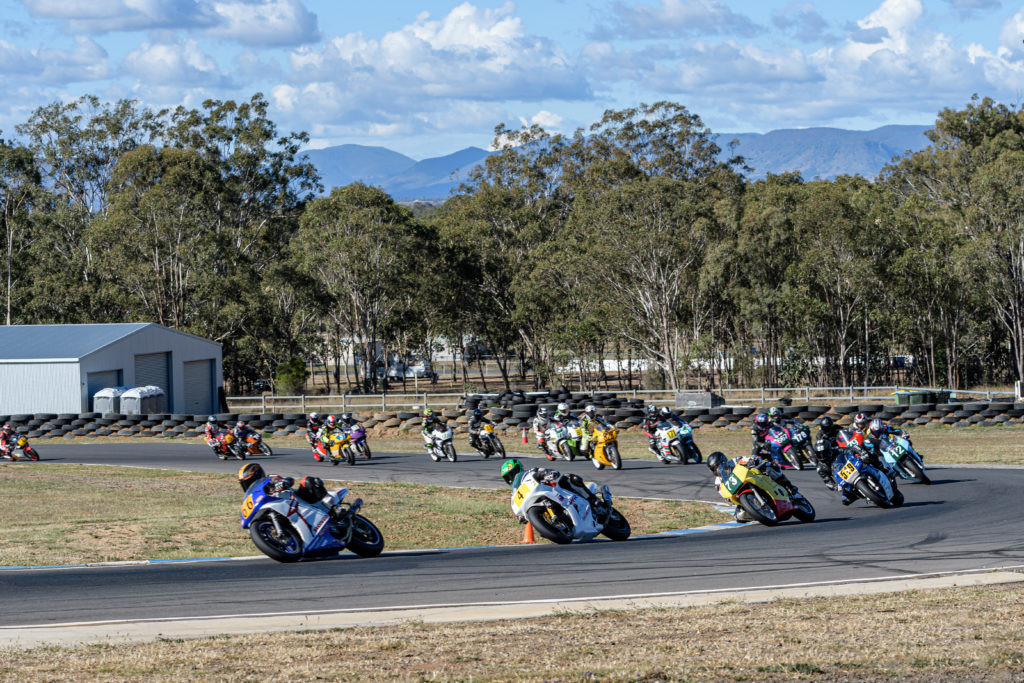 Period 6 500 was our next race and it was also race 1of 4 for the Queensland Historic Championships this week end. I got off to a reasonable start and slipped in behind Chris Dunster with Glenn Chandler out in front and pulling away. It took me 2 laps to pass Chris and by that time Glenn had not only pulled away but also secured a lap record for P6500 at Morgan Park. I finished in 2nd place. Best lap 1:26.1.
Pre 2k up to 500cc was next and this proved to be a disaster for the round. I had one of my best starts and had just shifted to 3rd gear when a bike suddenly appeared directly in front of me on its side and sliding towards the track edge. I had nowhere to go and ran into it which sent me over the front of the bike and onto the sliding bike. I got off it when it stopped and then proceeded to play 'Frogger' avoiding the oncoming bikes. The race was restarted without me so no points were collected, which really put me out of the running for any places. I got the bike back to the pits and started to repair the damage which really wasn't that bad considering the crash although a new helmet was needed. The only bad part was I fell on the other bike's footpeg and could barely walk.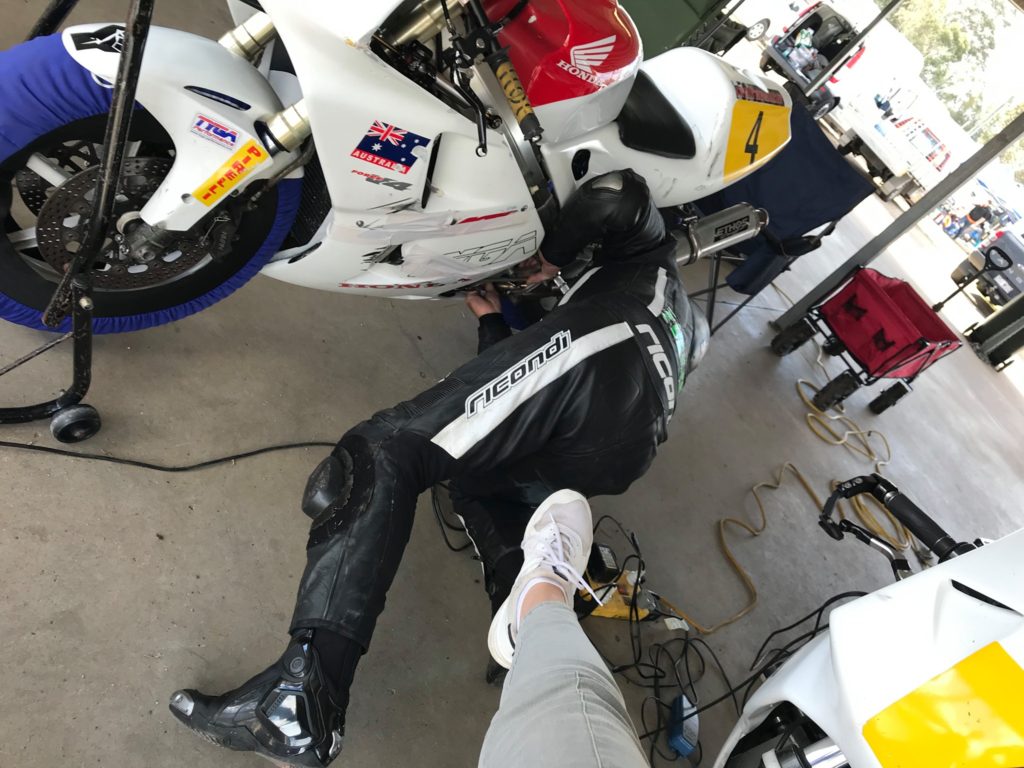 After a good kick up the butt to motivate me, we had the bike repaired and scrutineered and I was ready to try it for the next Pre2k 500cc race.
P6 500 was out next and I finally had a good start. With Glenn in first I followed him, trying to work out where to pass. It was a 6 lap race and I decided to make a move on the second last lap but I am pretty sure Glen knew this and took to the inside of every corner, stopping me from any out breaking passing manoeuvre. I finished 2nd by 0.9 of a second, recording the fastest lap of the race.
The Gregg Hansford race was out next. The top 30 riders from qualifying and their first race times are used to fill the grid. There are 2 classes involved, up to 500cc and 501cc to 1300cc all on the one grid and they are progressive grid positions for race 2. I qualified 11th for the first race and 6th for race 2. I finished 2nd in my class in both races.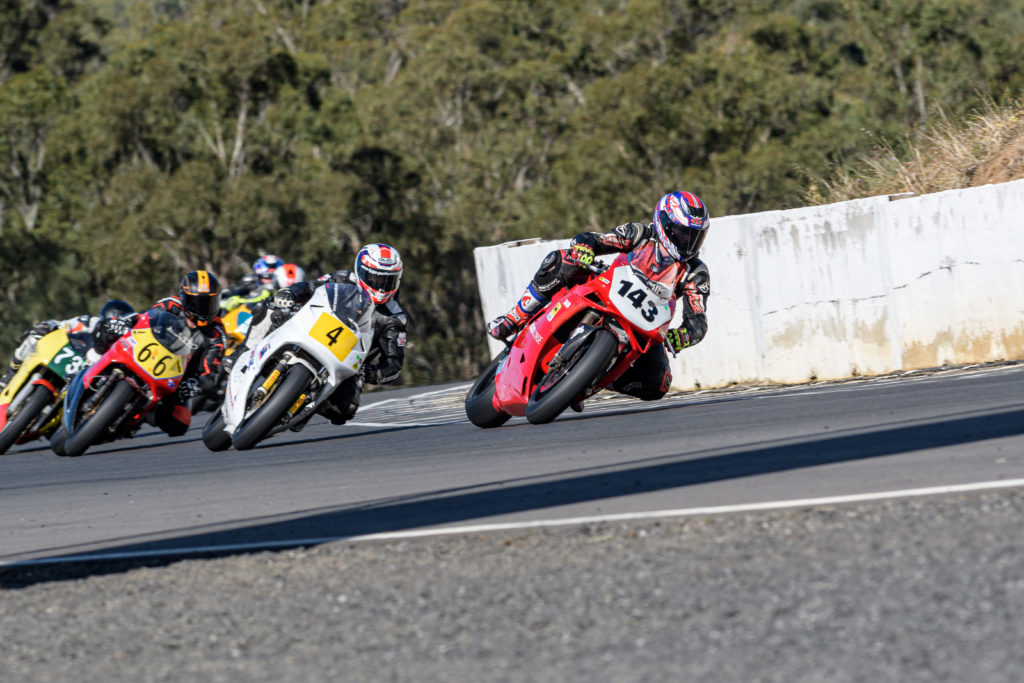 Last race for Pre2k 500 was out and I really didn't have much of a chance to check out how the bike was running. It was missing on one of the cylinders and I thought a possible spark plug had been flooded when the bike was on its side in the crash. It coughed and spluttered on the first 2 laps but started to clear itself and seem to be okay for the rest of the race. I finished 5th overall in the combined class and first in Pre 2k 500. That gave me 2 wins 1 second and 1 DNF for the round with 70 points.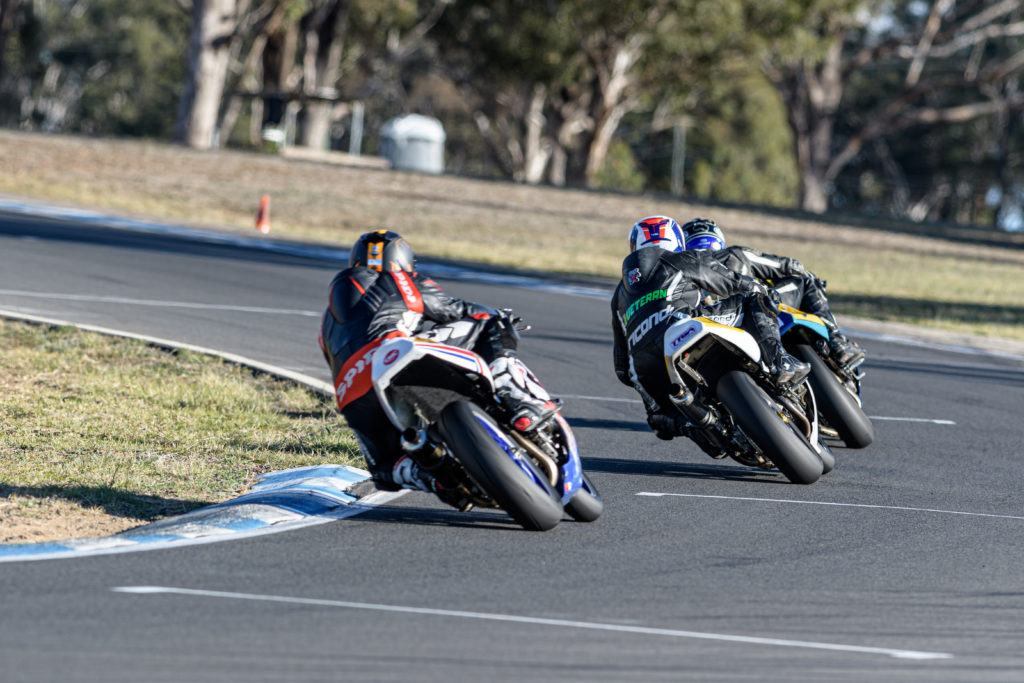 Last race on Sunday was P6 500. I didn't have enough points to beat Glenn for first place so just concentrated on a good start and slotted in right on Glenn's tail. By lap 3 I was thinking of passing him but after a few offs in my last couple of race meets and also one on Saturday, I decided to just sit on his tail and see if I could get a good run out of the last turn and try to pass down the straight. This didn't happen as planned so I took out second place and second overall in the QLD Historic P6 500 class with 4 second places.
At the end of the day we packed up the vans and proceeded up to the trophy presentations.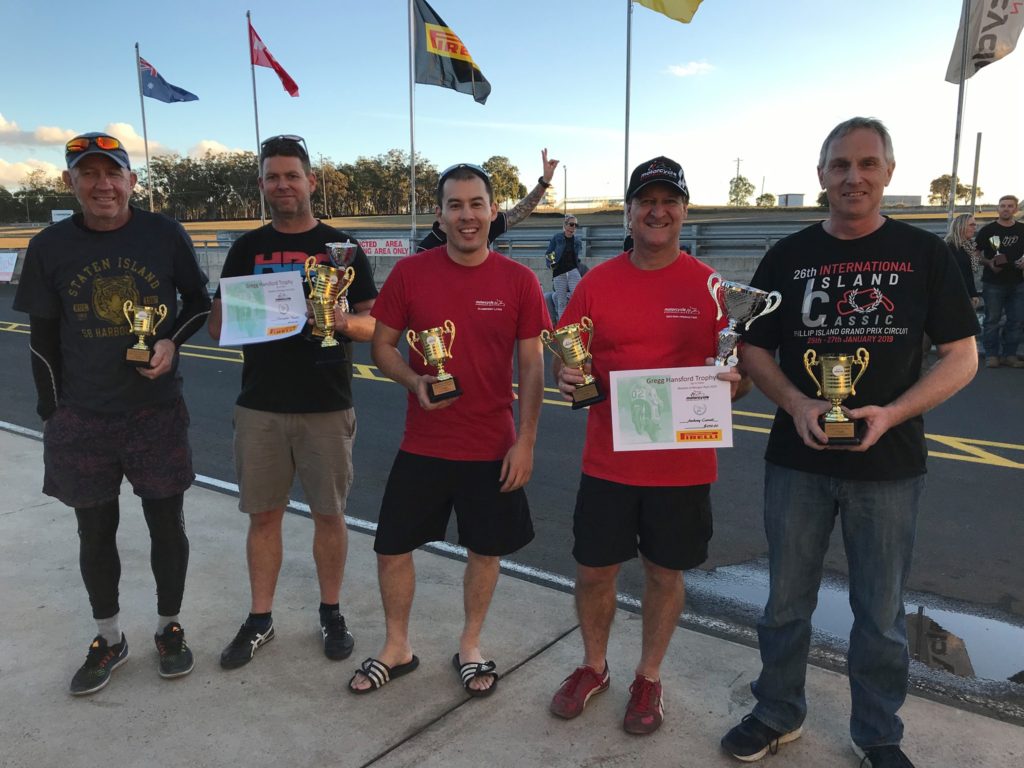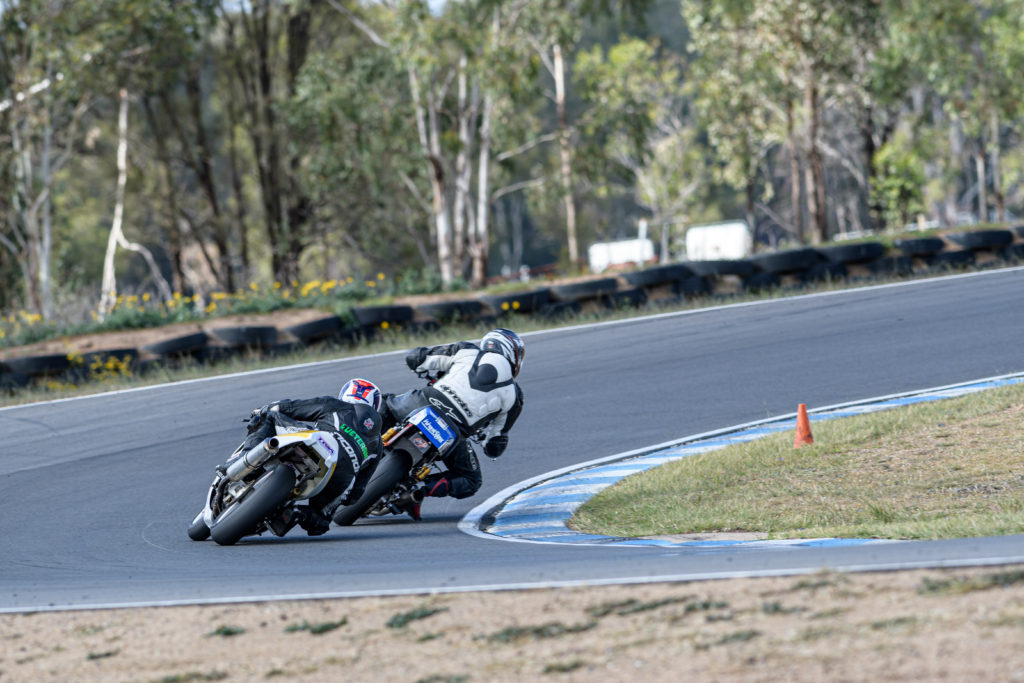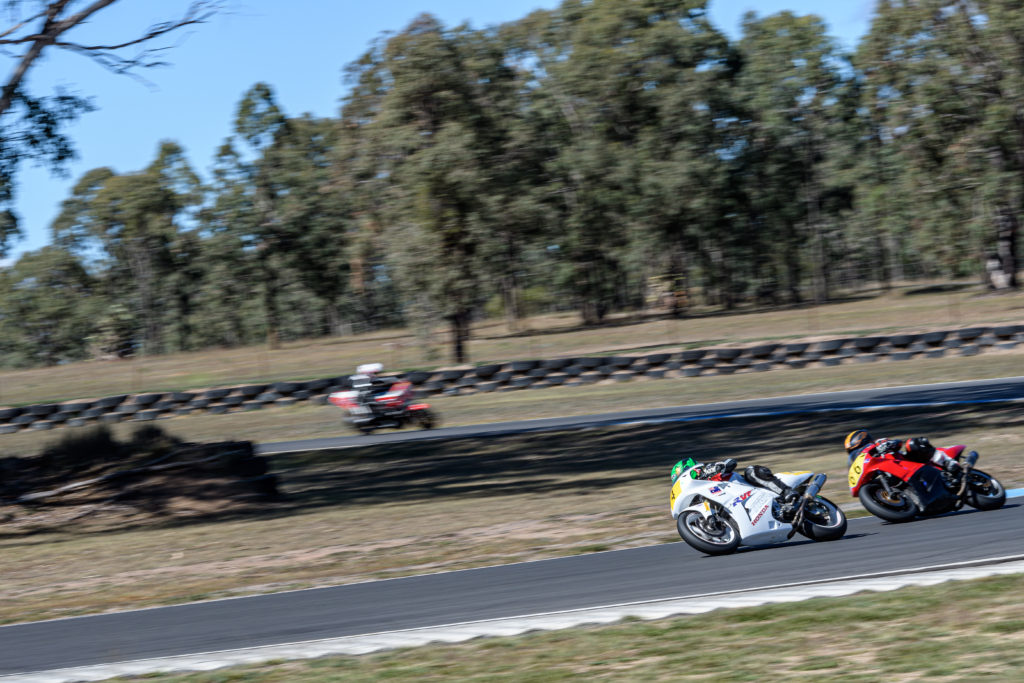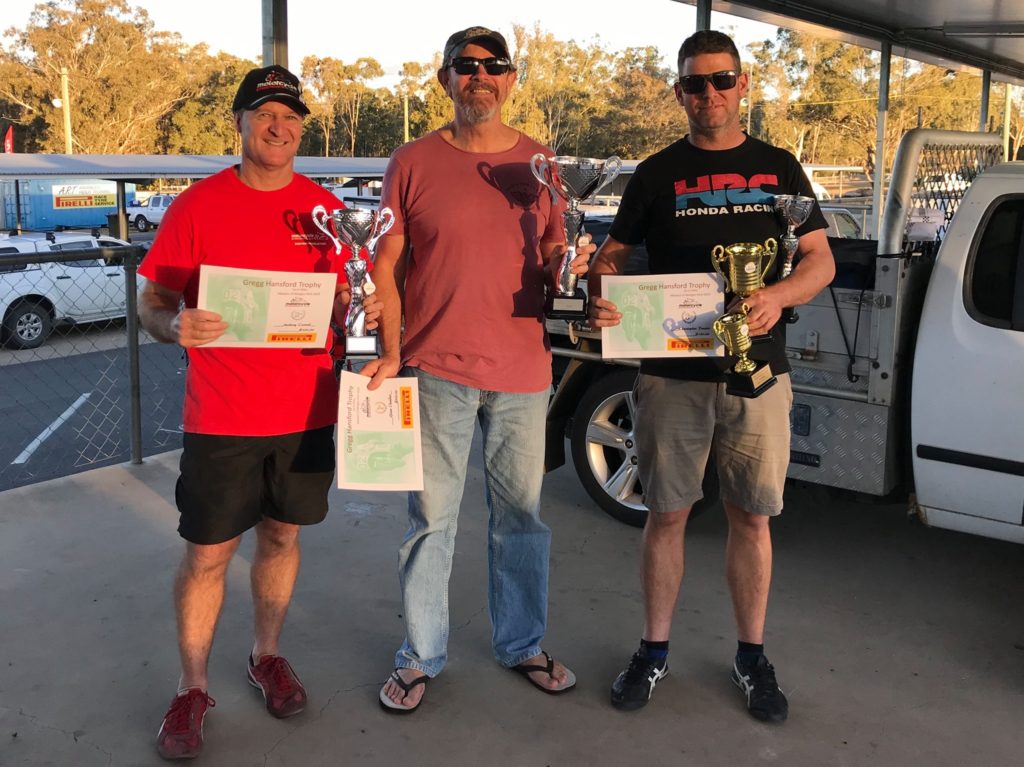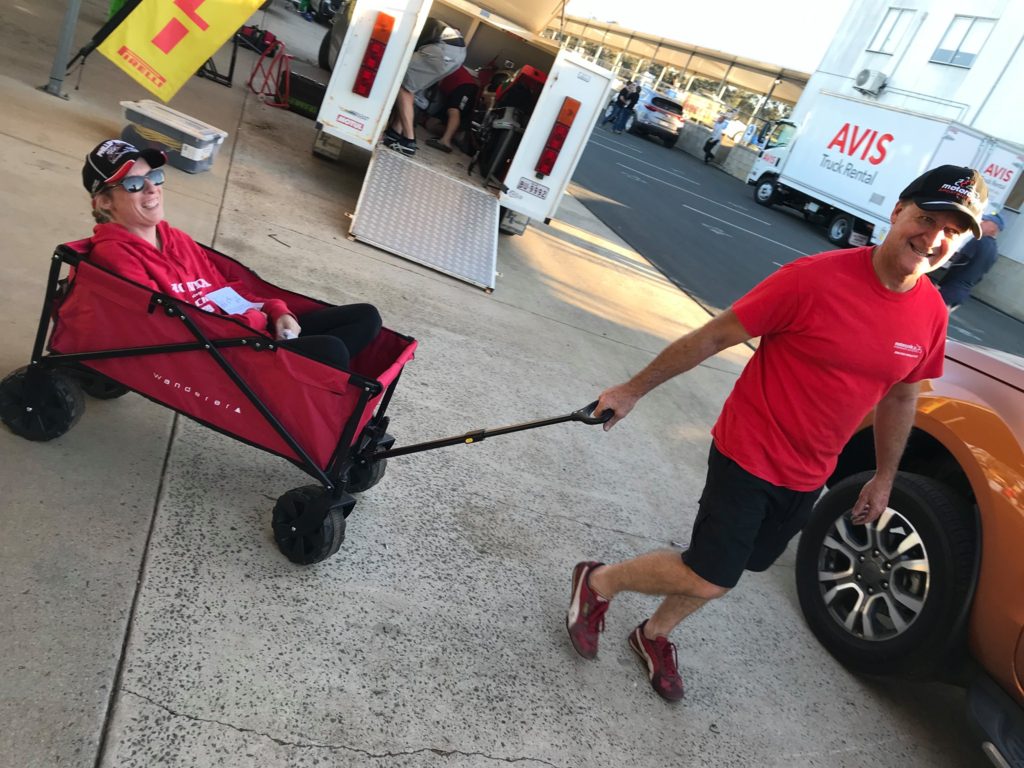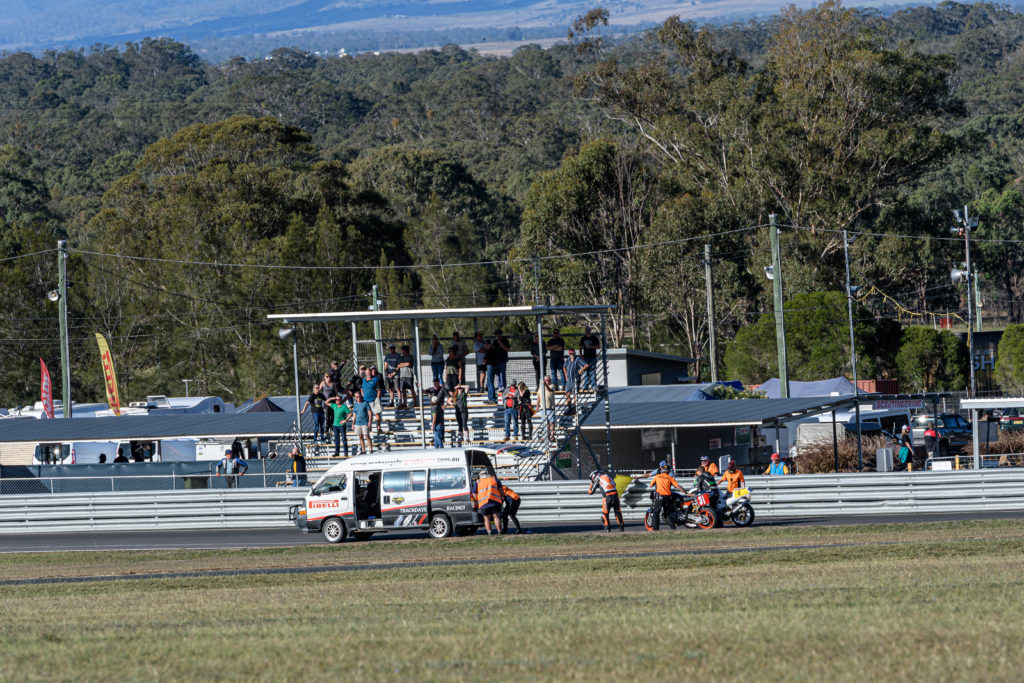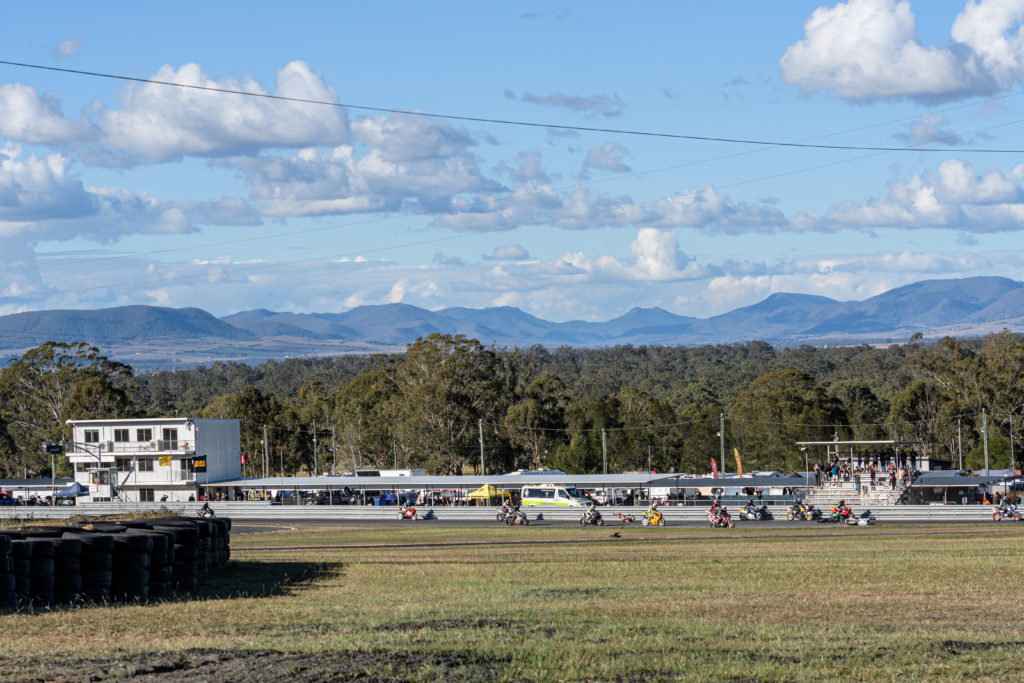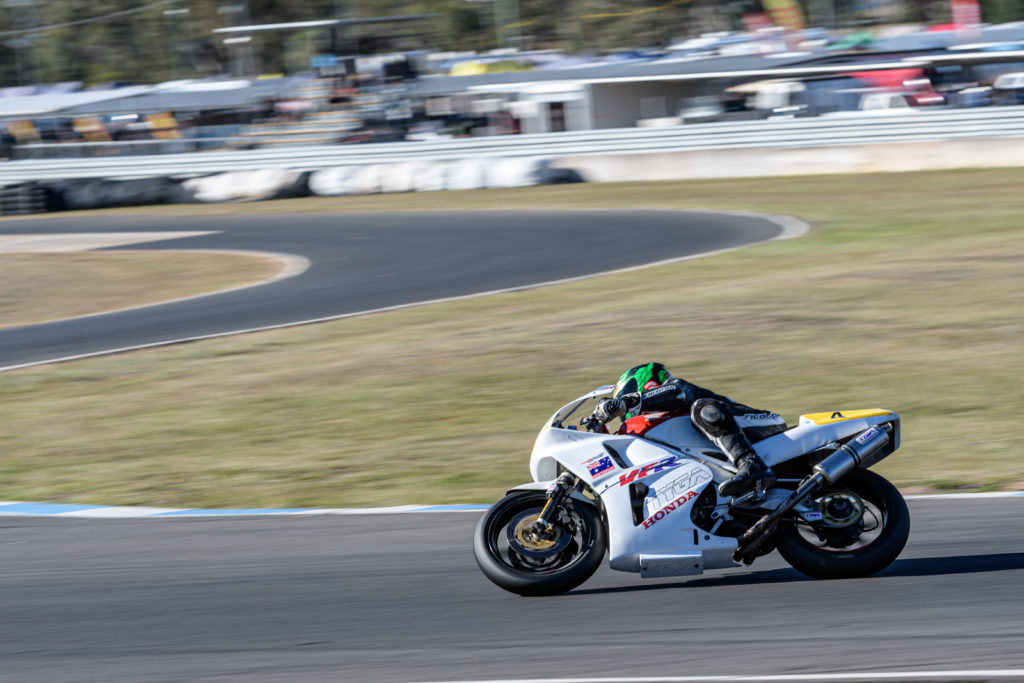 I would like to thank all the officials, flag marshalls and staff who helped put on a fantastic weekend of racing and all the 400 and 250 group who made it not only a great race weekend but a social outing as well.