After a disastrous showing in round #1 we were praying that this weekend of racing would be better. To cap off last round – 1x crash, wet tyres on when we should have had slicks and vice versa, water in the electrics, brakes locking on out of turn #4 causing a red flag, and 2x DNF's. This put us well down in the points for the first round. The weather report was looking good with no rain all weekend, just very cold mornings. We were also doing 3 classes of racing in round #1. F4 ,F3 and production 250. This round we scaled it back to just F3 &F4 due to me having a few more years (I will say experience) than most of my fellow racers. Saturday morning was very cold but by the time we were on track conditions were good. After qualifying was over I had secured position 2 on the grid for F3 & F4. I was grateful for this as the competition all around was on the pace.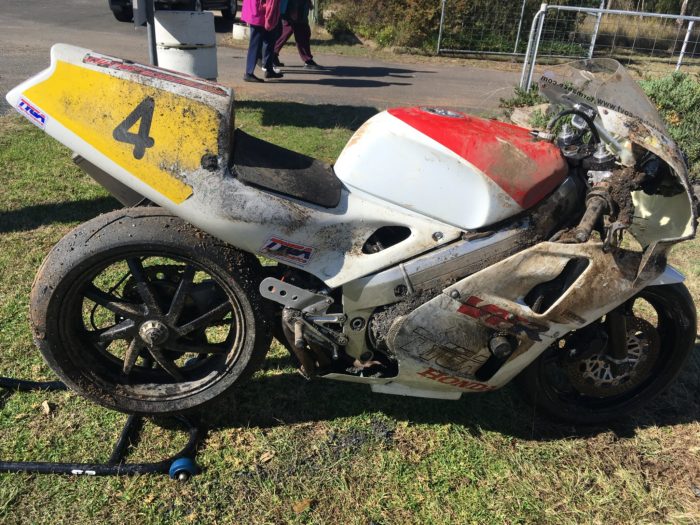 The bike had been repaired after the round we won't mention again and really had not been tested before qualifying. All seemed ok and could not fault the bike at all. The same couldn't be said about the rider. My main goal for this weekend was to just finish every race and try to regain some points back. Our first race for the day was Formula 4. I had just put on a new set of leathers and felt like a mummy, hopefully they'd soften a bit during the day. It was still only 5 degrees and the track still cold. I got away to a good start and slotted into 3rd place. From the very fist lap the two in front were pushing hard and I was a bit more conservative on the cold track. They started to pull a gap so I guessed there was plenty grip and started to push to catch up. It was a 7 lap race and by lap 5 decided I could make a pass into turn 10. This was successful and after the pass I then pushed hard and I think on the last lap a few slower riders helped me to finish in second position. BEST LAP: 1:24.34
The day was starting to get warmer and by next race – Formula 3 – the weather was perfect. In the race prior to ours a side car deposited oil over most turns on the track, which took about 1.5hrs to clean up. This put us as the last race of the day and by this time the sun was low causing a lot of shadows on the track. Not good for seeing any oil left. I had a good start again (for me) and was on the tail of the front 2. I had managed to pass Leigh into turn 4 on the last lap and was catching the leader. My plan was to get a good run through turns 11 & 12 and pass down the straight to the finish line. As usual my great plan came unstuck when into turn 11 Kyle hit a orange marker cone causing it to flip up and I was only about 2 metres behind. It hit me in the right shoulder knocking my hand of the throttle/bar. I can safely say that at 120kms they really hurt. A few expletives were said and as I got back on the throttle I watched Leigh pass me and I was back to third. BEST LAP: 1:25.8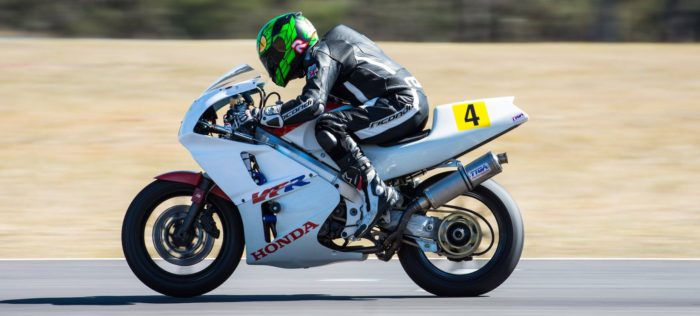 With the new surface the times were coming down but also I was having rear tyre issues which I haven't had before. The right hand side was cold tearing and so I added more pressure for the next race – Formula 4. This proved to be one of the fastest times I have ever done around this track. We all got off well at the start and I sat in behind the leader for the first 2 laps. The pace of these 2 laps was fast and on the 2nd lap I was passed down the straight. By the third lap the existing lap record was beaten and then in the next lap I had beaten it as well. On lap 5 Leigh had gone faster again and now holds that record for F4. I finished 3rd. BEST LAP: 1:23.90 – New PB!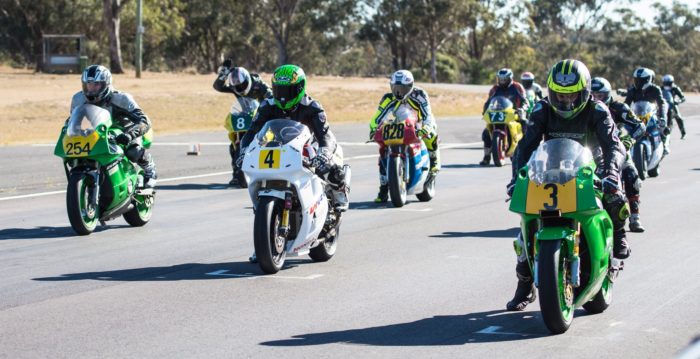 Sunday arrived with the temperature at 6am was 0 degrees. The sun was shining and it was warming up much quicker than the day before. Formula 3 was our first race. I finally had a good start and was in the lead. I headed down the back straight and usually I was being passed but this time no one came by. So I tried to put in a fast first lap and by lap 2 had a peek and the closest behind me was about 20 metres. Obviously I had escaped some sort of fun behind me. This was a 7 lap race so I tried to keep the same distance between me and second. On the last 2 laps I slowed a little which gave some added incentive to try and catch me. I finished only .374 in front! This was my first win for a while and definitely cheered me up. My first flying lap of 1:26.9 not that long ago would have not been far off a lap record. BEST LAP: 1:24.21.
Last Formula 4. Another good start and I was in third and working out a pass for turn #4. I tried to make a move up the inside but got it wrong and ran really wide. I could see first and second had made a big gap which I knew I could not reduce so I just tried to stay in third and get some points. BEST LAP: 1:24.8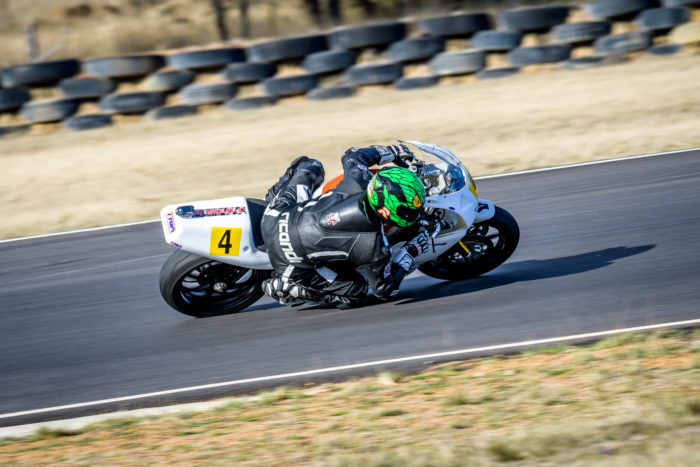 Last race for the day was Formula 3 and this round also incorporated the Queensland Road Race Championships for this class as well. We all filed into turn #1 and from there the pace was on and I could see Kyle trying to pass Leigh into turn #4. I decided to sit back and wait for any opportunity to pass as I could see they were both dicing with each other and maybe they would try some manoeuvre and one of them would make a mistake. I could get good pace out of turn #7 but just didn't have the H.P to be able to make a safe pass. I did try at turn #10 but ran wide as I could feel the front starting to slide. I ran off the edge of the track and when I tried to come back on didn't realise there is about 15cm drop. One huge tank slapper and me just about thrown off the bike. I have no idea how I actually stayed on. Decided that 3rd was fine. After returning to the pits I was informed I had jumped started and was dropped 3 positions to 6. All that hard work for nothing. BEST LAP: 1:24.79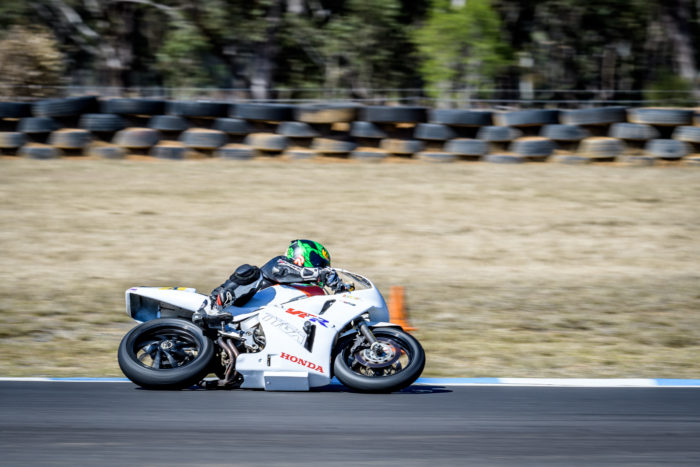 The weather turned out to be perfect for racing and many lap records and PB'S were made. I had some great racing with the other riders and all pushed me to be able to ride faster than I have ever done. I have come away with 3rd position so far in Formula 3 QRRC. But along way out of the points overall due to the round we won't mention.
People I would like to thank. Sheree – an integral part of the team, The Motorcycle sportsmen for another well run round, Tyga-performance.com for their continued support, the officials, flaggies and the new starter :).
Our next race is a support class for Round 5 of the Australian Superbike Championship on 26 & 27 August 2017.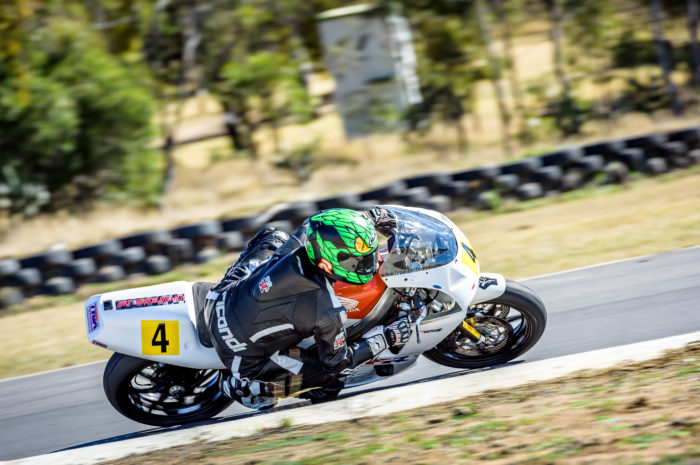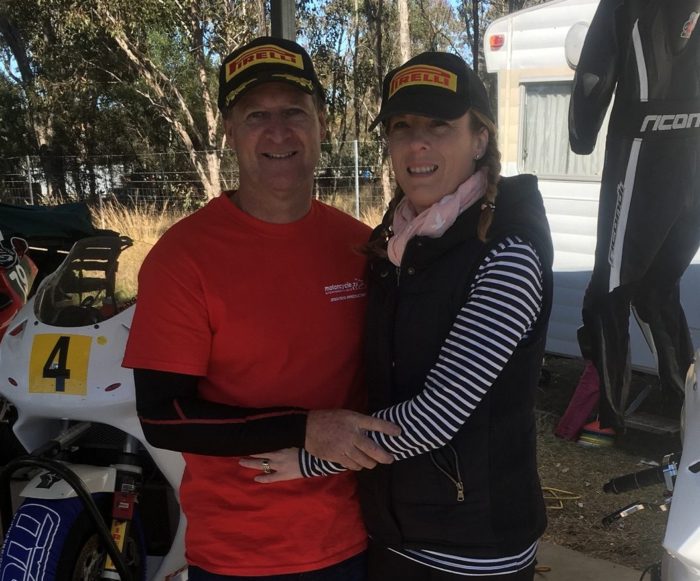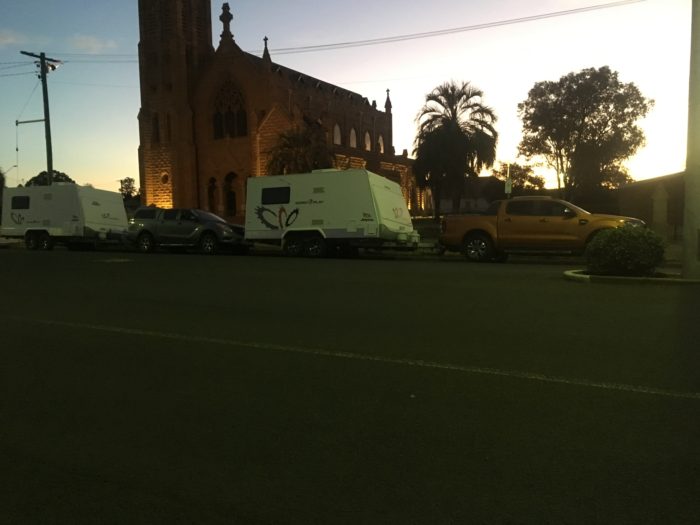 VIDEO OF RACE 2 – FORMULA 3