After competing in the Barry Sheene Festival of Speed in March this year we travelled to New Zealand as part of the Aussie team for the second round of the series. The venue was at Hampton Downs in the North Island. We arrived on the Thursday afternoon and waited till all bikes had cleared customs before we unpacked and set up our bikes ready for practice on Friday. In our party were two other members of the Motorcycle Sportsmen of Queensland, Chris Dunster(HONDA VFR400) and Kieran McGeown (HONDA CBR250RR). I was entered on a (HONDA VFR400).  Chris and I were entered in PRE 89F3 and Kieran in PRE89 junior F3. Also along for the fun was Chris's Mum and Dad, Kieran's partner Leah and my wife Sheree.  Hampton Downs is a fantastic facility and our accommodation was directly across from our pits on the main straight.

Thursday night/early Friday morning saw heavy rain fall. The track was wet but the sun was out and we all hoped by the time we started it would be dry. Once sign on and briefing had finished we were ready to try out this new track. My first impressions were that it was nice and smooth but as with any track for the first time I was lost – where to brake, when to turn in etc. I was a glad we had taken up the practice day before racing started on Saturday. After the third session out, I was slowly getting used to it and followed a few of the locals around to see what lines they were using. By the end of the day I had started out with 1:33's and was now down to 1:22's. From talking to some other riders I would need to be running about 1:18-19's to be competitive. We all finished the day with no problems and were ready to start the next day. Bikes were all checked and we were ready for the race weekend. We all went back to accommodation for a few drinks and a bit of a debrief.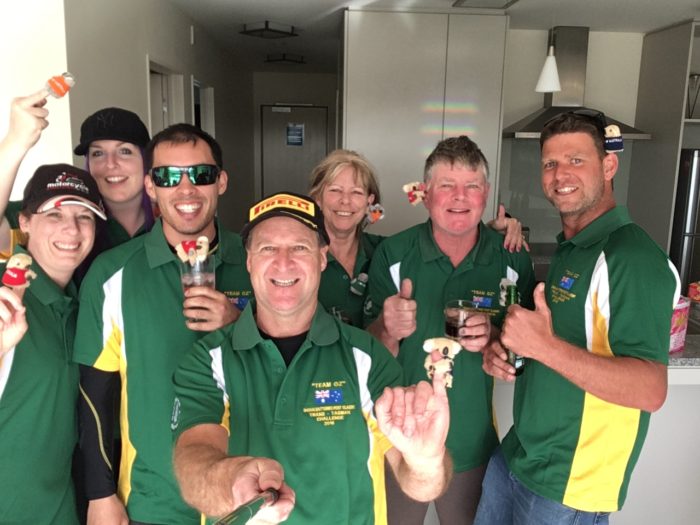 Saturday morning started out with the track wet again from rain overnight but the sun was out and the track was drying fast. Our bikes were ready, the format was one 10 minute practice followed by qualifying, and racing starting around 11:00pm. Our session for qualifying was called and we all went out together as some classes were combined. I had a pretty good run and was not held up too much but I have to admit some were dangerously slow, especially at the end of the straight not knowing what line to pick. At the end of the session I had finished qualifying 3rd on the grid and first in my class. Chris was 5th and Kieran was 11th.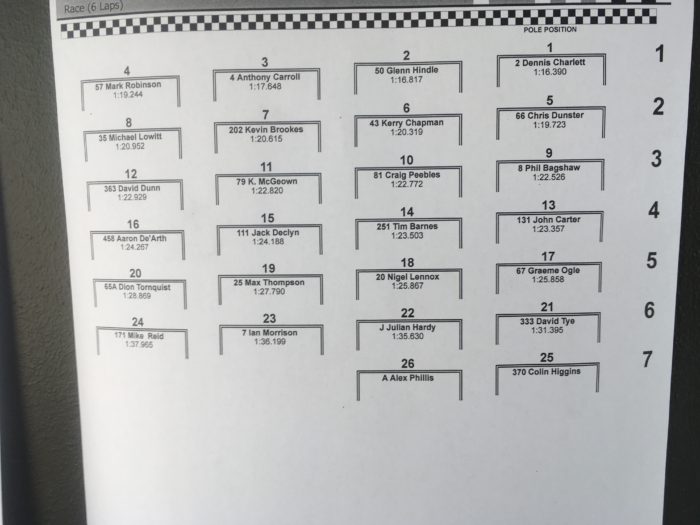 Race 1: I lined up in position 3 and for some reason position 1 and 2 were vacant (being 2 strokes I guessed they were having problems) anyway I put the bike into 1st gear and off we all went. By the first corner I was in third and then second as Chris pulled over to the grass with a problem. I later found out it had bent a valve as he missed a gear and over revved it. The bike was absolutely perfect and the suspension was spot on. By the time I was getting on to the straight I was right behind the leader and slip streamed past. They were 6 lap races and on what I thought was the last lap and a checkered flag was actually a white flag signifying the last lap. I backed off heading back to the pits only to find the riders I had passed went straight passed me still racing! So then I realised it was the last lap and put my head down and ended up coming second. Lesson learnt. They don't put out a last lap board only a white flag.
Race 2: Being progressive grids I started off in 2nd position. I had my usual start and by turn 1 was in 4th position and fighting to stay with the leaders who were starting to pull away. At the end of the first lap I was in 3rd and slowly catching the rider in front of me. I had also the chance to change a few entry lines as I was getting use to the circuit and this helped. By lap 3 I was in second and held this place till the finish.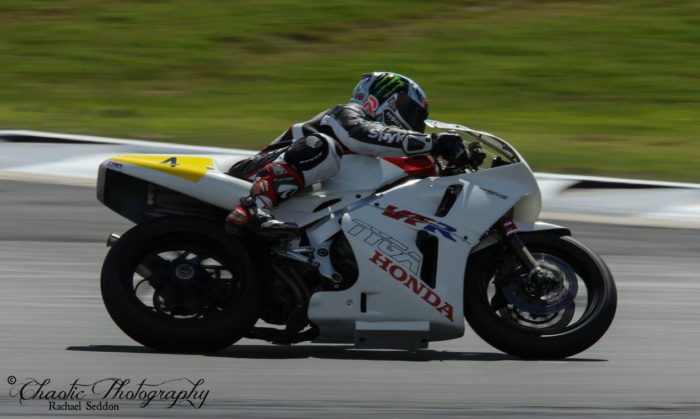 Race 3: Due to progressive grids I started off in second again. By turn 1 was overtaken by M.Lowitt on a Kawasaki 400 and so I sat behind and was waiting of the opportunity to hopefully overtake. On lap 2 I was passed around the outside of turn 2 a very risky move I thought. I slipped on right behind him and into the next crested left hander he lost the front and luckily I managed to avoid his bike. This put me about 30 metres behind the leader. Lap 4 and I managed to pass the leader down the straight and kept the lead until the last  right hand turn – I could hear the familiar sound of a 2 stroke close by. Coming on to the straight I felt I had exited the turn well enough to win but was passed with about 5 metres to the finish line by a Yamaha  tz 400.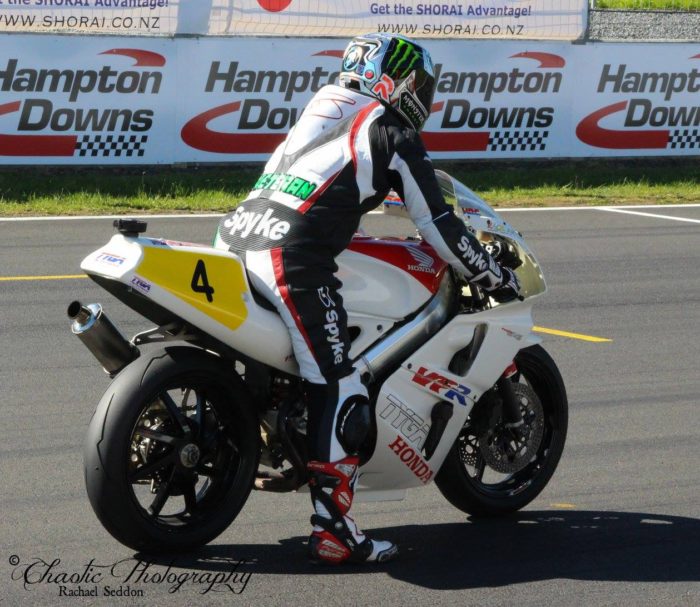 International Race 1: The top 40 fastest times taken by all bikes/classes race and are each given points according to where they finish against a rider of similar times from the country you are competing against. I was 17th fastest out of the top 40.
At the completion of the 6 lap race I finished in 19th position from 35 starters.
International Race 2: I started in 19th position and after some crazy moves by some other riders, overtaking and running off etc. I finished in 17th. Both races I finished in front of my assigned competitor from New Zealand.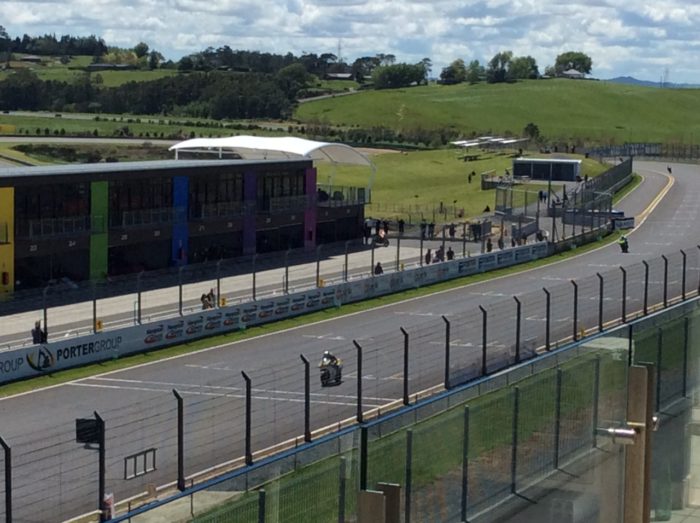 Race 4: Last race of the weekend and I was again in position 2.  The usual start by me and I was in position 5 by turn 1. It was back to getting past as quick as possible without letting the leader get too far ahead. After lap 1, I was back to third and going into turn 4 I started to feel the front starting to slide. It actually didn't feel that bad so I just kept it going and as I exited the turn it finally stopped sliding. The Pirelli's were so predictable all weekend and gave me a lot of confidence to push when needed. By lap 4 I had passed the rider in 1st just before the end of the straight and led till the finish 2 laps later. This had gained me enough points to win my class.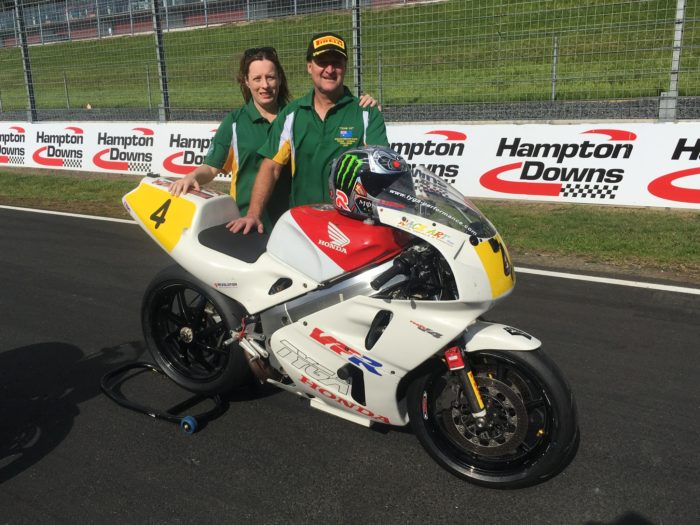 The 3 days were a great experience and our first trip overseas to race. The weather was near perfect and the Kiwi's were very welcoming. The facilities at Hampton Downs were absolutely first class as well and if possible we would love to go back and give it another go. This track and facilities is really what we need back here in Australia. People I would like to thank for their help in making this possible are; My wife (Sheree), Leah McDonald, Chris Dunster, Kieran McGeown and the Post Classic Racing Association of NSW and TYGA-PERFORMANCE.COM for their generous help.