The Masters of Morgan Park incorporates rounds of the B.E.A.R.S, (British, European, American Race Series) Australian Sidecars and the QLD Historic Road Race Championships. There was also 2 races of the Gregg Hansford trophy event for the top 30 riders with the fastest times. This was split into 2 categories. Up to 500cc and 501cc to 1300cc. I was entered in the 2 Historic classes: Period 6 500cc on a Honda VFR400 and Period 6 250 Production on a Honda CBR250RR. I was looking forward to riding on the recently resurfaced track, hoping it was a lot smoother. Rain had been forecast but everyone was crossing their fingers that we would get the weekend over before the rain. Saturday morning arrived and the weather was good, cloudy but no rain. I qualified in position 2 for the P6 500 with a 1:28.7 and in the P6 250 I qualified in position 3.
Race #1 – 8 Laps – P6 500. First race of the day and I got away with a good start slotting in behind Callum Barker. The pace was very quick and I still wasn't 100% sure of the new track grip so I tried my best to hold on to the back of the leader and settled in about 1/2 sec behind, trying to see if there was any places I could affect a clean pass. After 2 laps I realised that there wasn't really any places to cleanly pass so I settled in and just waited. Nearing the end of the 3rd lap Callum's bike seemed to slow and I passed just after turn 12. I then tried to put in 2 fast laps to gain some lead. A quick look behind and the closest was a fair way back so I slowed down to a comfortable pace to make it home in first position. Best lap 1:26.1.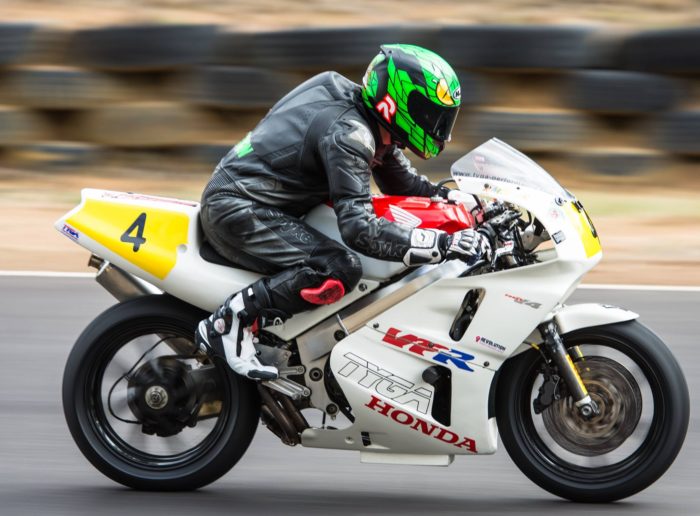 Race #2 – 8 Laps – P6 250 Production. I qualified 3rd and I knew that it would be hard to finish in the top 5 as there were many riders very close to my lap times.  My start was okay and I followed the 2 leaders and tried to stay with them.  On the first lap I was passed by 2 riders in another class and this allowed the front 2 to pull away, while I tried to pass them. By lap 4 I had passed these 2 but the front 2 had gained a good 6 second advantage so for the last 2 laps I tried to keep a consistent pace and finished in third. Best lap 1:29.6.
Race#3 – 6 Laps – P6 250 Production.  This was one of my better starts and I was right on the tail of the 3 front runners. I passed the Ducati 500 into turn #4 and then closed in on the 2 lead riders (Simon Dickson and Glenn Chandler). I boldly did a dive under brakes into tun#6 and I think I shocked Simon. It didn't last long as I ran wide allowing Simon to pull back into second position. I kept with them for the next 4 laps but their corner speed was faster than mine and I slowly dropped off. I finished 4 seconds behind and did my fastest lap on a 250, this giving me some encouragement for the other races. Best lap 1:28.7.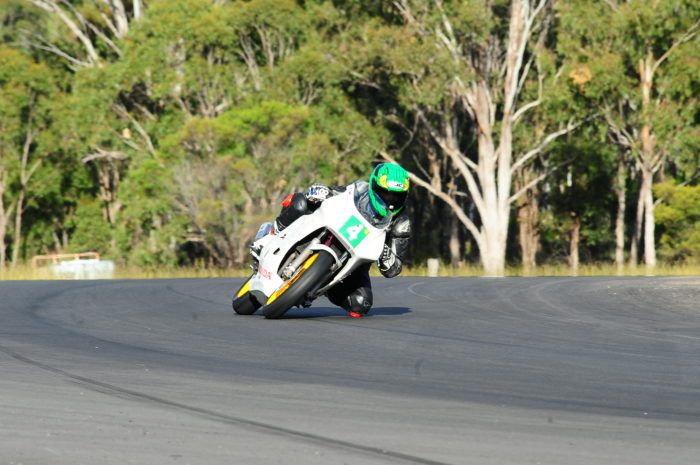 With racing finished for the day a group of us all went out for dinner. During this time it started to rain and we all looked at each other with a expression on our faces that that every rider knows. Lucky for us when we awoke in the morning the rain had gone and the track was drying.
A quick check of the bikes and Tyre warmers on we headed up for riders briefing.
Race #4 – 6 Laps – P6 500.  Another good start for me so I was in 2nd position. I kept my position and on the 2nd lap the front rider was obviously experiencing problems. I passed on lap 3 and was not challenged again, finishing in first position. Best lap 1:25.9
Gregg Hansford – Race #1 – 7 Laps.  I qualified 4th on the grid which was pretty good against some much more powerful machines. The start was okay and I was about 4 meters behind coming into turn #4. I caught up under brakes and all riders were only 1 metre apart. They would pull away out of the corners but myself and the rider in front were able to keep with the leading 2 riders for 5 of the seven laps. Not bad for 400cc bikes up against 1000cc machines. By the end of the race there was only 5 seconds from 1st to myself in 4th.  This produced a new lap record for Callum Barker on a 400cc bike (1:23.9) and my fastest ever at (1:24.3). This put me in 2nd position in my class.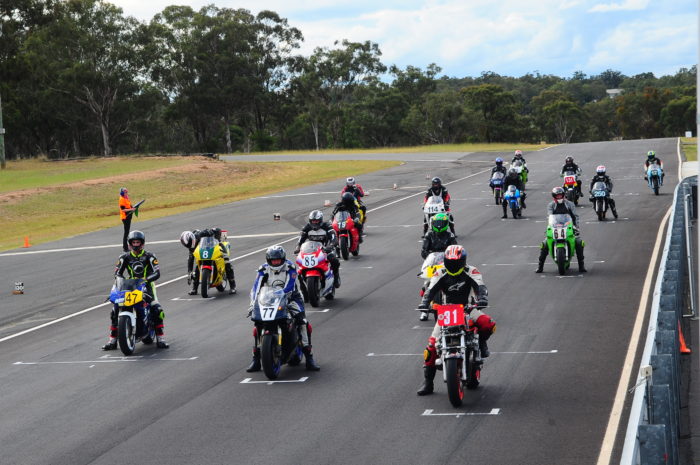 Race# 5 – 5 Laps – P6 250 Production. This was the last race on the 250 for the weekend and I needed to finish in 3rd position in my class. I started well and slotted in behind the front 3 riders. I passed the p5 500 Ducati into turn #6  for third but was passed down the back straight again. I passed him 3 more times during the race but I was always passed down the back straight.  Eventually finishing 4th but 3rd overall in my class. Best Lap 1:29.8. This gave me third place in P6 250 Production QHRRC.
Race#6 – 5 Laps – P6 500. So far I had taken 2 1sts due to mechanical problems for Callum Barker. We both got away to a good start and I followed as close as possible. By lap #4 I was 3 seconds behind and I tried to put in some faster laps but trying harder sometimes produces slower lap times. I finished in 2nd position. Best Lap 1:25.5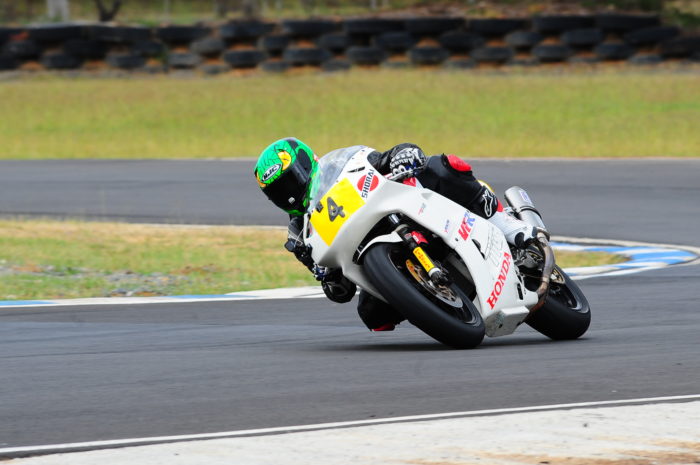 Gregg Hansford – Race #8 – 8 Laps. Due to the larger capacity bikes on the grid I was passed from the start and held up from turn #1 til turn #4. This let the front riders pull away and from then on I was not able to get into that main group. I could see them slowly pulling away and by the third lap I new there was no way of getting close, so I just kept a good pace and tried to finish in position 4, 2nd in my class. Best Lap 1:26.1. This gave me 2nd place in the P6 up to 500cc Gregg Hansford Trophy Event.
Race #9 – 5 Laps – P6 500. This was the last race and I needed to finish in 2nd position to win the P6 500. The first lap was very fast with me following him close behind the leader. There was a lot of sparks coming off him as he was pushing hard into the corners. I was following down the straight and just exiting turn #1. I was only a metre behind and it looked like his peg hit the ground into turn #2. Callum lost the front and low sided right in front of me. I was lucky enough to miss him and continued on. When I came back to turn#2 he had remounted and continued the race. I now had a  comfortable lead and just kept a good rhythm and finished the race. Best Lap :1:27.9. This gave me 1st place in the P6 up to 500cc QHRRC.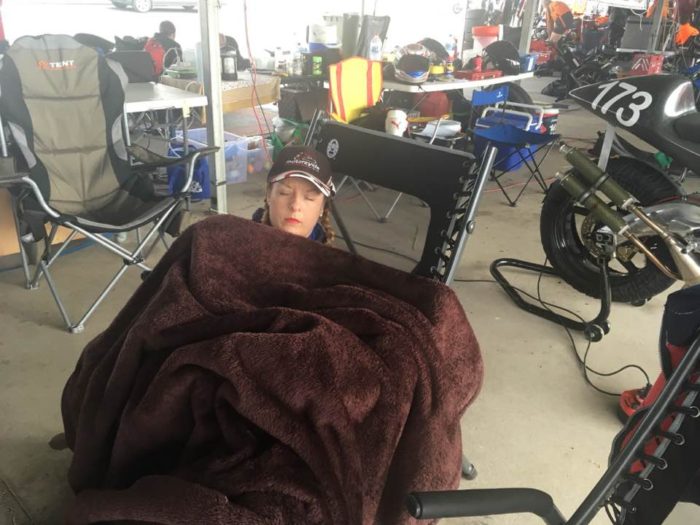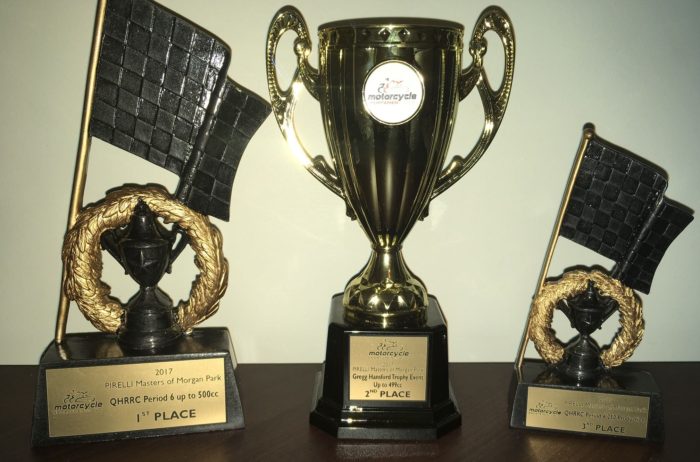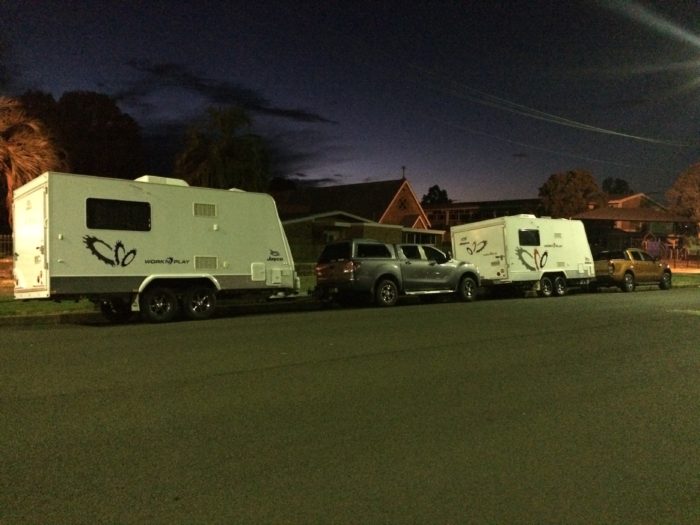 The weekend turned out well and the weather held off for some great racing. These events can only be only run with a large amount of volunteer's time from the committee, officials, timekeepers, flaggies and the lovely people who print out our lap times after every race.  We would like to thank the motorcycle sportsmen of QLD  for another well run event.
I ran my fastest times ever this weekend on the Honda VFR400 and the Honda CBR250RR. So, I would also like to thank the competitors who keep me going faster. Honestly you all need to just slow down ;).
We would also like to thank tyga-performance.com  for their continued support.
A big thanks to Leah McDonald for her support in updating this webpage.
Sheree and Tony Carroll.