2015 was the last time I had attended the P.I Classic. This year it was held on the Australia Day weekend from the 25th-28th of January. Thursday was a practice day and Friday morning was qualifying with racing starting in the afternoon. I was travelling with John Carpenter, who was also entered in the same events as myself. Joining us in our pit garage were Gary, Mark and Kieran who are also members of the Motorcycle Sportsmen of Queensland.  We left at midnight on the Monday carrying 3 x VFR400's in the enclosed trailer. I took two bikes, John had one, and I decided I would share my spare if the worst happened. It was a 1810 kilometre journey so we took turns driving.  Just 50 kilometres from Albury we were saying how well the trip was going when the tyre on the trailer decided to fall apart. We pulled over, got out and quickly realised it was 43 degrees. John  changed the tyre, wiped the sweat off and continued to Albury. We stayed the night and had a new tyre fitted the following morning. From then on the journey was uneventful all the way to the Island.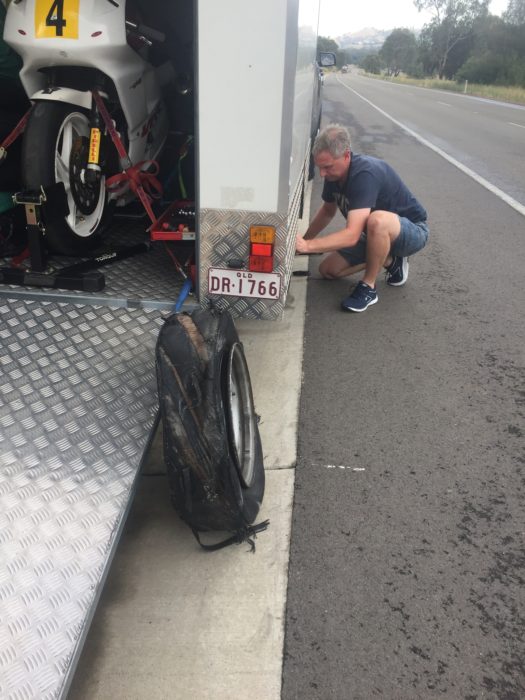 We arrived on the Island Wednesday afternoon and drove to our accommodation about 10 minutes from the track.  We did a bit of shopping and went to sleep about 11:00pm. My sleep was broken by the awful sound of the alarm at 5:30am as the track opened at 6:00am.
I really enjoy driving into the Phillip Island circuit. The view and the whole atmosphere of this place is something that all bike nuts should come and experience for themselves. We started with the usual sign on and then unloaded all the bikes and gear for the practice day ahead. Practice day went well, I changed a few settings on the bike and all felt really comfortable. On some of the corners it would stutter and then as the revs built it seemed to be okay. I thought it was just low on fuel so added more and it seemed to fix it. Later in one of the races this proved to be incorrect. With practice day a success, we locked up the garage and headed back to the house. During the night I heard the sound all racers hate……rain!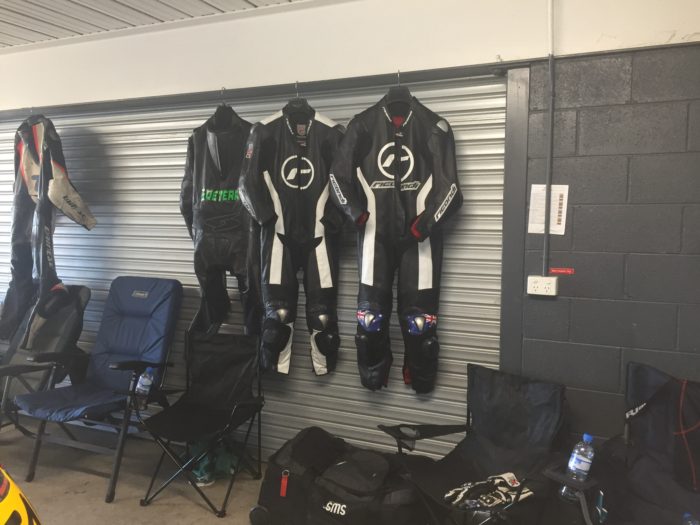 Friday morning we were back at the track early.  The track was drying very quickly and would be dry before we were out on track.  Qualifying for the P6 500 and the P6 750 was in the morning with 1 x 15 minutes each and one race for the P6 750 was the last event for the day. I qualified 10th in the P6 500 and 8th in the P6 750 races.
After the last qualifying session was over a few of us were called to the control tower as we were told we had passed under a yellow flag and that our qualifying position could be changed if found guilty. I put my case  forward and explained that yes I did pass but only to avert a rear end as the rider in front saw the yellow flag, straight away shut off the throttle, and braked half way around Lukey Heights. I said he should have rolled off slowly. Unfortunately at these events many of the riders only ride once or twice per year and are so slow they can change their lines at any time and never do the same corner twice. I know everyone wants to ride the Island and other tracks but when they are lapped in a 4 lap race on similar bikes maybe they need to rethink their racing. Anyway, we were not penalised so all went well for the first day.
As our race was the last event of the day I wasn't sure whether to put new tyres on as they had been used at the Australian Historic Titles at Wakefield Park and all the practice and qualifying sessions. I took a chance and did the first race on them and finished in 9th position which I was pretty happy with as I was the first of the 400's to finish. I was relieved to end the day on a positive note.  That night we all went to a dinner at the track and were entertained by some legends of the motorcycle world,  talking about their careers and some of the great stories that happened during their racing lives.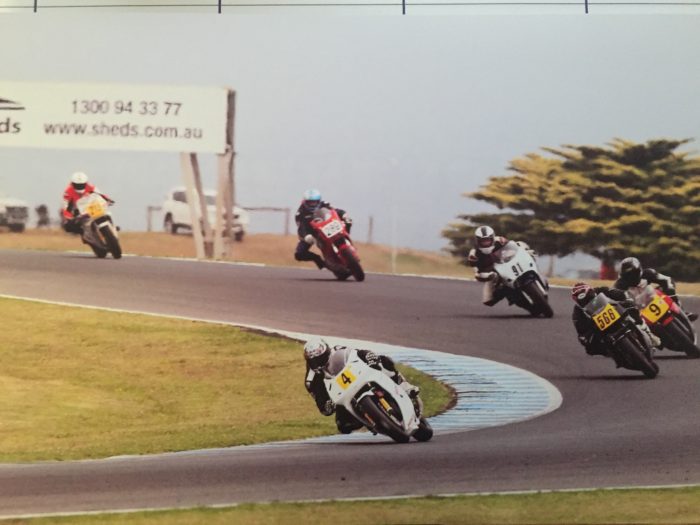 Saturday morning arrived and there had been thunderstorms and rain during the night. We arrived at the track expecting it to be still wet but most of the track was pretty dry and thankfully we weren't out until the 8th race. After rider's briefing we put on new tyres and checked over our bikes. I had changed the rear suspension adding more preload. We could see from our pits that many spectators on their bikes were arriving and the place was starting to fill. The sun was out and the track was dry. The P6 500 race was my first event of the day. I lined up in position 10, got a fairly good start and was working my way up to 4th position.  When coming out of Siberia the bike started to slow and when I throttled off for a second it would spring back to life for a short period. I managed to finish in 11th. Before the next race we removed the tank and found that the filter was not allowing enough fuel to pass.  We removed it and put in one straight piece of fuel hose. This fixed the problem and when I went out in the next P6 750 race the bike was actually going better than ever before!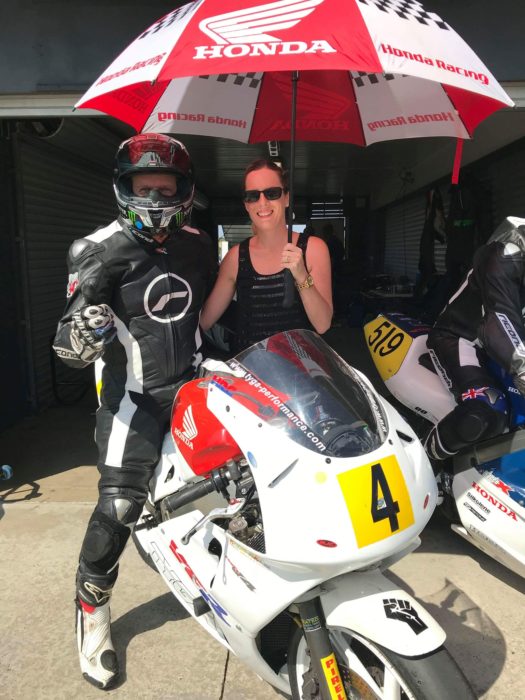 Race 2 was the P6 750. Grids for the weekend were static and so I was to be in 8th position for the whole weekend.  My starts were okay, obviously the larger bikes passed me fairly quickly at the start and by turn one I was in about 15th position. I battled with a few of the bigger bikes and was able to pass them only to be hosed down the straight. Being 30 kilometres slower in top speed didn't help. I would then slowly catch up through turn 3 and overtake them into turn 4.   I  then managed to hold them off to finish 9th with a lap time of 1:49.3. Once again I was the first 400 to finish, but only just!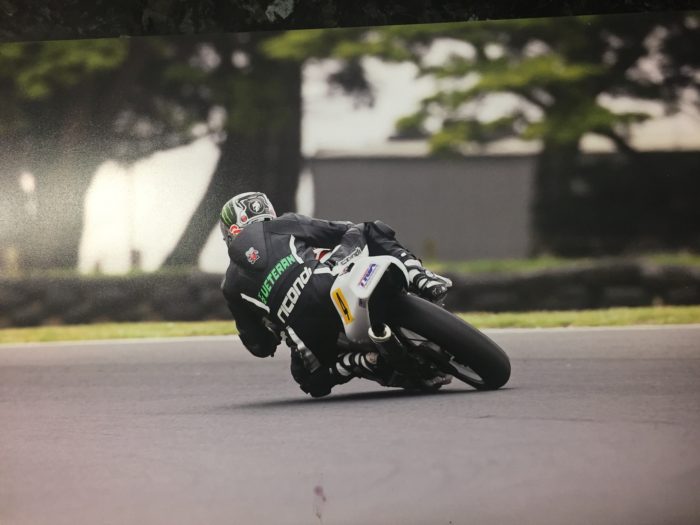 Tyre wear was good. I was trying out the Pirelli Superbike tyres this time. Normally I use the Supercorsas so was really wanting to see if any advantage was to gain in times and wear. So far my times were quicker than last outing when I was here and the feel was great.
We wandered around the pits in between races and checked out all the bikes and teams. Even though it was hot the crowds were out and about. It is great that the spectators can walk around the pits and we had many people asking about the bikes and riders. Many were wanting to get into racing and were asking about the costs involved and where we raced when not down at Phillip Island.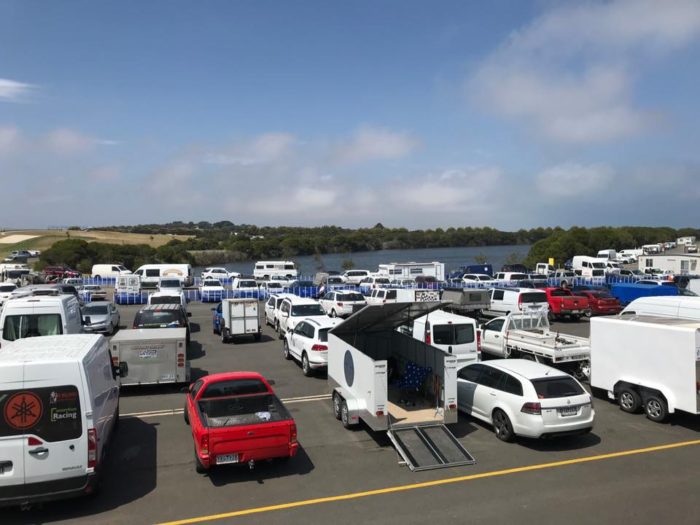 Next out was P6 500. In this race I tried to make up a few positions that I lost when I had the earlier fuel issues.  By lap 3 I had managed  to get into 5th position and had actually passed 2 of the very quick Yamaha TZ 250 GP bikes. I tried to hold them out down around Stoner Corner but they had too much speed and passed me, putting me back in 7th.  Into Honda Corner I was also passed by Glenn Kettle (Honda VFR). All that work for nothing! By Lukey Heights I was back on their tail and was hoping to get a tow down the straight. I tucked in behind the 2 TZ's and the VFR and just before the finish line one of the TZ's had a problem and slowed very quickly. Luckily for me both the other bikes veered out of the way just in time for me to be staring at a bike doing 40 kilometres per hour while I was doing over 200 kilometres per hour!  I had just enough time to swerve nearly taking out the person holding out the last lap board. From then on I caught a few back markers but managed to catch up and just pass Glenn Kettle on the VFR metres before the line. I finished in 6th.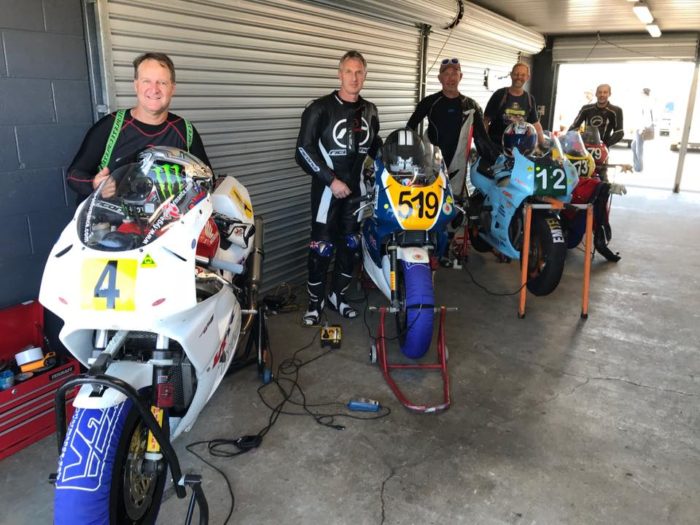 P6 750: I really got a slow start and by turn 1 was in about 20th position. This held me up for the first lap and it took me three laps to pass a lot of bikes that were doing lap times about 2 seconds slower than me. I could see the front runners disappearing ahead and I managed to get to 11th position as it was only a four lap race. All through the race I was saying to myself, "get a better start!!"
P6500: My start was good and by lap 2 I was on the back of the riders in 5th and 6th position. All was going well until my foot got stuck under the gear lever coming out of turn 11. This caused me to run wide and back off a little letting 3 riders pass putting me into 9th.  Being only 4 laps doesn't give you much time to catch up. I pushed really hard the last 2 laps to finish in 6th.  I was also helped by one rider jump starting and getting a ten second penalty. (Note to self – Don't be lazy and get your feet out of the way).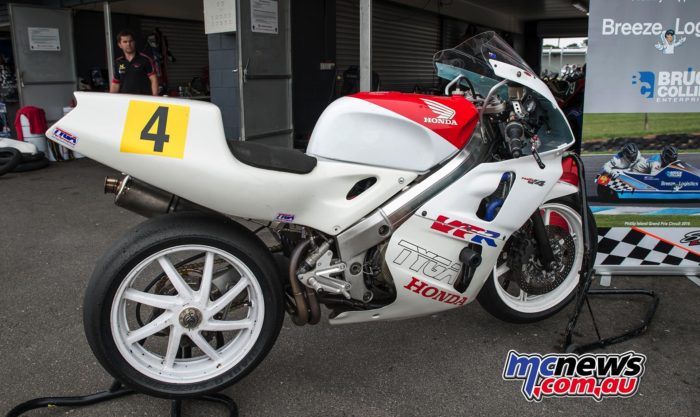 P6750: Last race for weekend in the 750cc class. This was a better start than the race before. I tried to tuck in behind some of the bigger bikes and just get a tow around and then try to pass them on the last lap down at Honda Corner. This plan was working until Glenn Kettle came past and then for the last 2 laps it was a bit of a cat and mouse game between us. The two bigger bikes were holding us up in different sections of the track. I fell a bit behind but on the last lap went through Lukey Heights probably faster than I had all weekend in order to catch up. This strategy worked and I was back in it again and managed to pass Glenn just before the line to come 9th.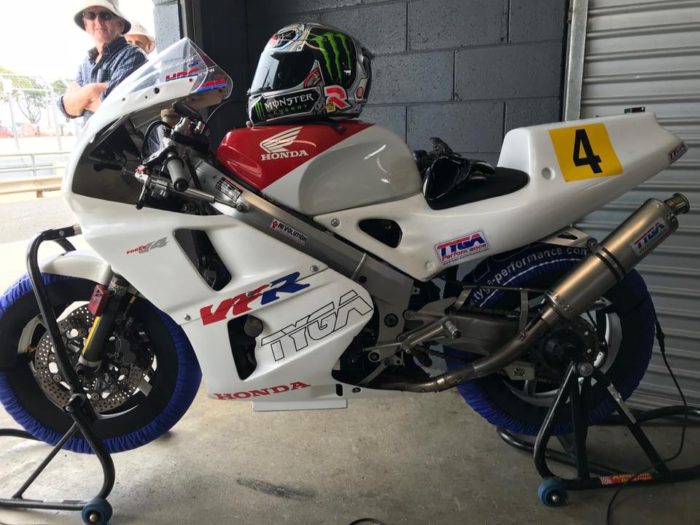 P6500: This was the last race for the weekend and the temperature was now 40 degrees. Everyone was sweating getting ready. I had a great start but we didn't even finish 1 lap before it was red flagged. We all came back to the pits and sweltered not knowing how long to restart or if it was going to be cancelled. After about 5 minutes it was restarted and it felt good just to get some air moving around you, even if it was hot air. I managed a good start,  had a few battles and eventually got past a few riders and started to try and chase the front runners.  By lap three I had managed to get into 5th and stayed there until the chequered flag.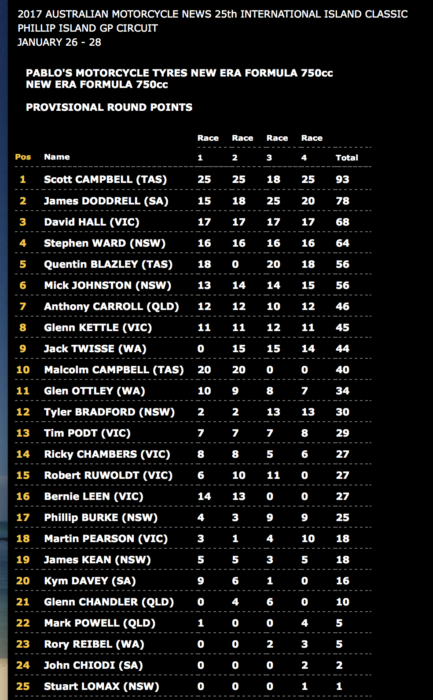 Just after our last race the high temperatures over Victoria had put a huge demand on the power supply so they started load shedding and the whole Island was shut off. Lucky for us and the for whole event.   If  this had happened earlier the meeting would have been abandoned due to no timing and all other associated equipment needed to run a race meeting. We packed up and then went off to do a little sightseeing before we left the next morning for the 18 hour drive back home. I had promised my wife that we would go and see some penguins and some of the sights around the Island.  Many thanks to  tyga-performance.com for their quality motorcycle gear, John for the help in driving down and back, Sheree for all her support and the other club members who made the trip both memorable and enjoyable. Hopefully we will be back next year.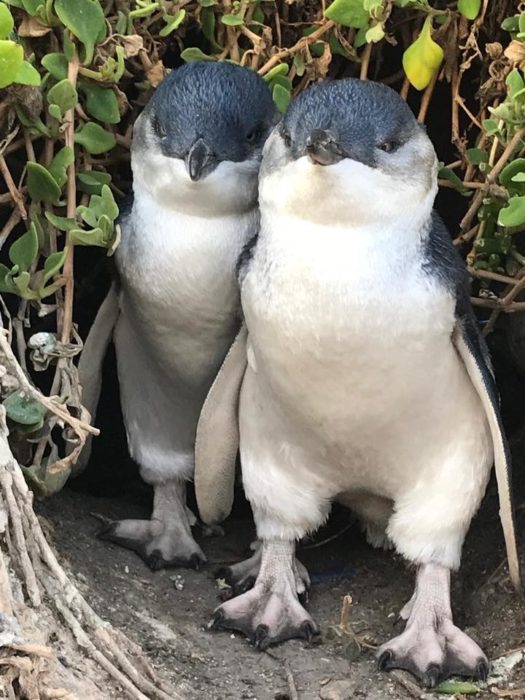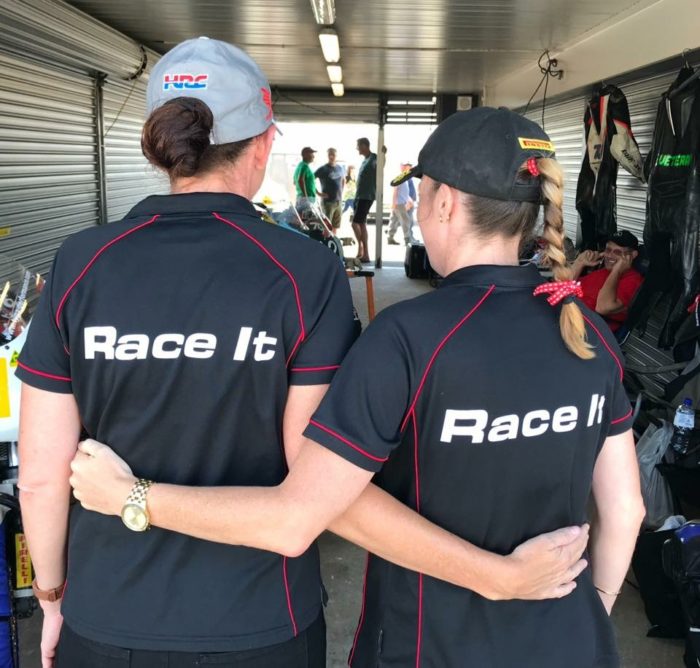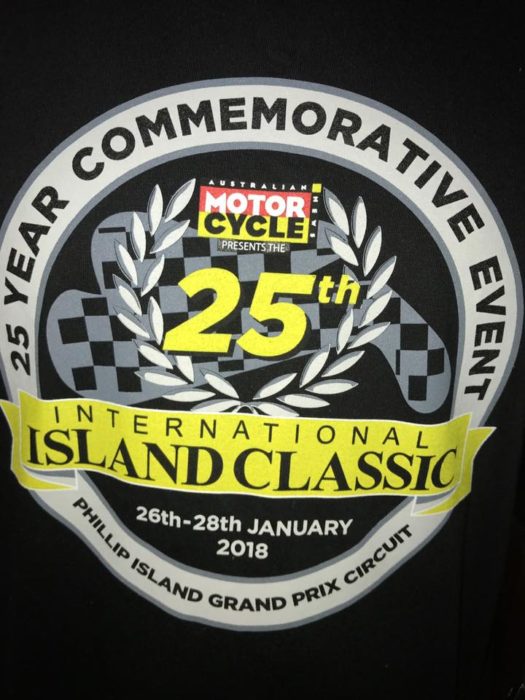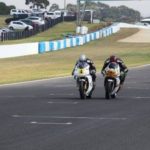 ONBOARD FOOTAGE – P6500
ONBOARD FOOTAGE – P6750