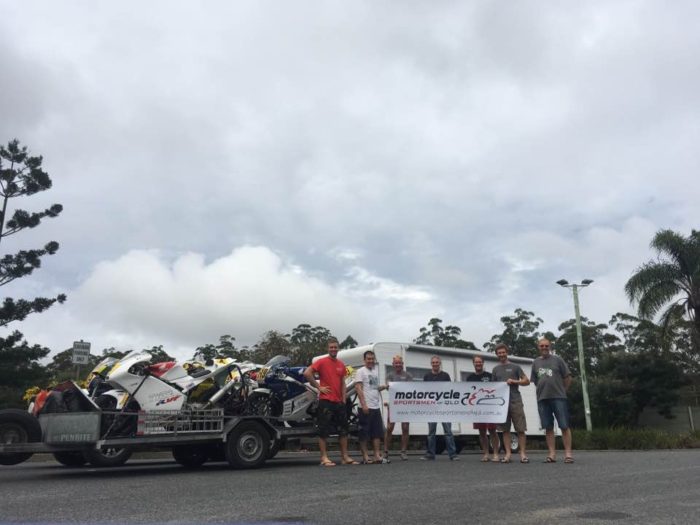 On Tuesday morning at 3:30am, seven members of the Motorcycle Sportsmen of Queensland left Brisbane for the annual IFOS held in Sydney at Sydney Motorsport Park. It is a 13 hour drive and we needed to be there by about 5:00pm that afternoon. This was a four day event with Thursday a practice day and Friday to Sunday were racing. Most of the way down was raining and 3hrs from Sydney we ran into a huge thunder storm which slowed our pace down to 40kph. Finally we made it through the afternoon traffic and arrived at 5:30pm. We unpacked all our gear into the garages and set up in the camping area at the track.
These were the classes I entered.
P6 500: 1983-1990 up to 500cc bikes.
Pre Modern:  1991-1997: F1, F2, F3 and 250GP bikes.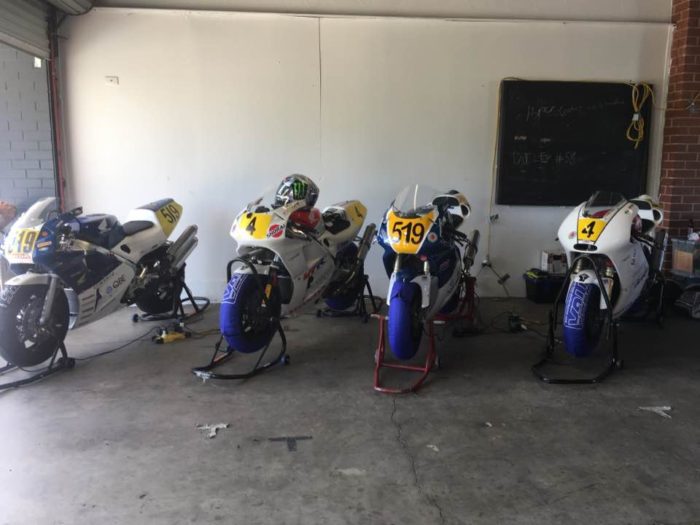 During the night I could hear the rain on the roof of the van.  The whole track was already soaked by days of raining so tomorrows outlook was looking very bleak. I awoke about 6:30am and went to have a look and saw that most of the rain was gone but there were still a few dark clouds about. The track was wet but very slowly patches were drying and by the time we were due for our practice sessions it would probably be relatively dry. The usual formalities of racing were about to be done i.e. licence checks, transponders, scrutineering, riders briefing, setting up our pit area and checking over all the bikes. I was entered in 2 events: Formula 3 Pre Modern on a Honda RVF400 and Period 6.500cc on a Honda VFR400. I had finished 3rd last year on my VFR400 and hoped to at least be in the top 5 this year. I hadn't raced the RVF400 so really didn't know what to expect. My first session out was in F3 in 30 minutes so raced up and had my morning heart starter with a double shot cappuccino. Thursday was just getting the bikes sorted and checking the track which was still damp in a few places but drying all the time. The day went well but I was a long way off my times from last year.
Friday morning arrived with some sunshine and there was only one corner that was still wet. At  turn #5 water was still running across the track.  Friday was 1 x 15min practice session for each class followed by qualifying and our first races starting after lunch.
First qualifying was F3. There really wasn't much traffic during qualifying even though they had combined the classes (250cc GP and  P6 250GP and F3).  I ended up third overall and 2nd in my class. This gave me a bit of a boost as I wasn't really expecting that. They also ran progressive grids so after the first race you could be starting at the rear if you had a horror race!  Qualifying for P6 500 was a little different as there were some very slow riders and some with the strangest race lines I had ever seen, some really didn't have race lines at all! I managed to successfully miss all of this and qualified in 4th, taking off 6 seconds from Thursday's practice session. Back in the garages we checked over the bikes and talked about strategies and track conditions before having some lunch.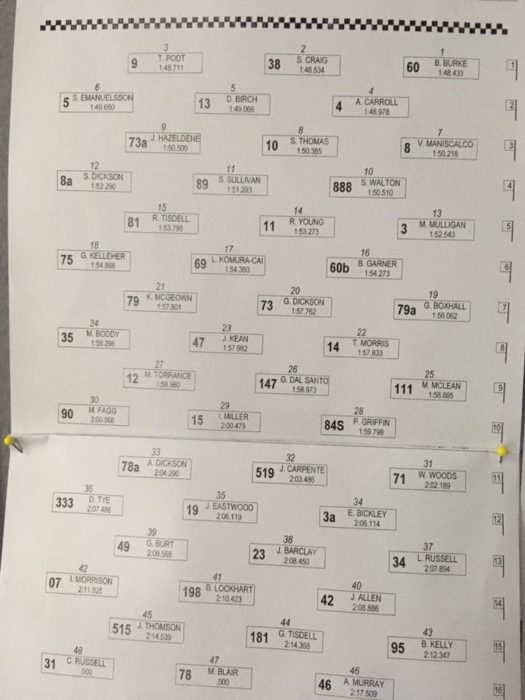 First race after lunch was the combined F3, 250GP and P6 250GP bikes. I always have reservations going into a race at a new venue and with riders I have never raced against. I guess I am not the only one who has these thoughts. Approaching my grid position I took a big breath, said to myself – don't stuff up the start, there are 50 riders behind you and take it easy on the first lap (something you really can't do in short races).  The red light went out, I performed a very good start and I was in second position by the first turn. By lap 2 I had made 2 mistakes by selecting the wrong gear in critical parts of the track so I was passed by 4 riders. I did manage to catch them again but being only a 4 lap race there was not enough time to pass again and I finished in 6th position and 3rd in my class. A few lessons learnt for next race.
First race for P6 500 which is combined with P6 250GP and P5 500cc. I started in position 4 and having a good start in the F3 race gave me some confidence, for I am known for my hopeless starts. I pulled off a good start and was 4th into the first turn in touch with the leaders. I  managed to stay with them for the first 2 laps but a few small errors in some turns had me lose a few seconds from the leaders but I wasn't passed. I finished the race in 4th. Pretty happy with that so I just needed to fix a few of the corners where I kept running wide plus I also needed to get the bike to turn in a little earlier and find some better braking reference points.
Friday only had 2 races for me due to the morning qualifying so we checked over all the bikes and had them ready for Saturday morning. We all went back to the camping area and talked about the day and then went out for Thai.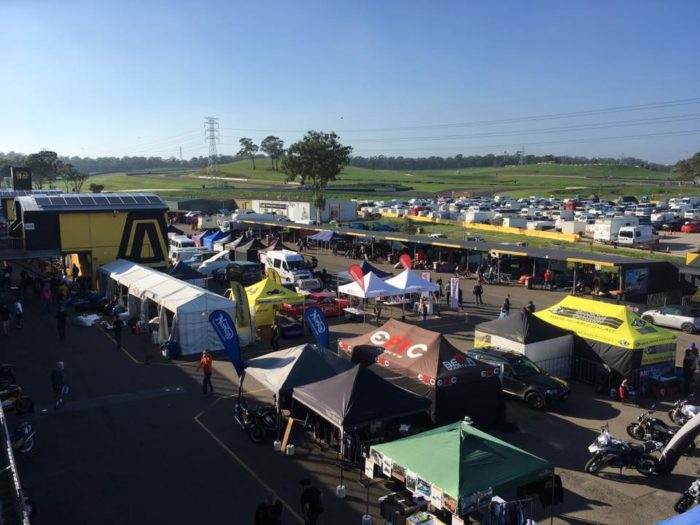 Saturday morning arrived and the weather was looking better. Crowds started to file in and it started looking like there were a lot more people here than last year. Car parks were filling and the exhibitors stands were abuzz with people checking out what was available to buy. Turn #5 was still oozing water but was slowly drying. The wind was obviously blowing in the wrong direction as the foul stench of the dump close by had everyone commenting.
First up was 1 of 2 races for F3 today. I had put a bit more preload on the rear yesterday and hoped it gave me a bit better drive out of the last turn. Yesterday it tended to squat out of corners and really didn't feel you could get on the power early enough. My start again was good and I was 2nd into turn #2. Only bike in front was a 250 GP bike so I tried to stay as close as possible. Coming out of  the last turn I could accelerate much earlier and my changing of the preload must have worked. I finished first in my class with a very uneventful race which gave me some time to try a few different entry and exit points. I was always running wide out of turn #2, so changing my apex point had me getting out of the corner and being able to accelerate a little quicker. It must have been quick as I set a new lap record for F3 with a 1:45.523, beating the old record of 1:45.784.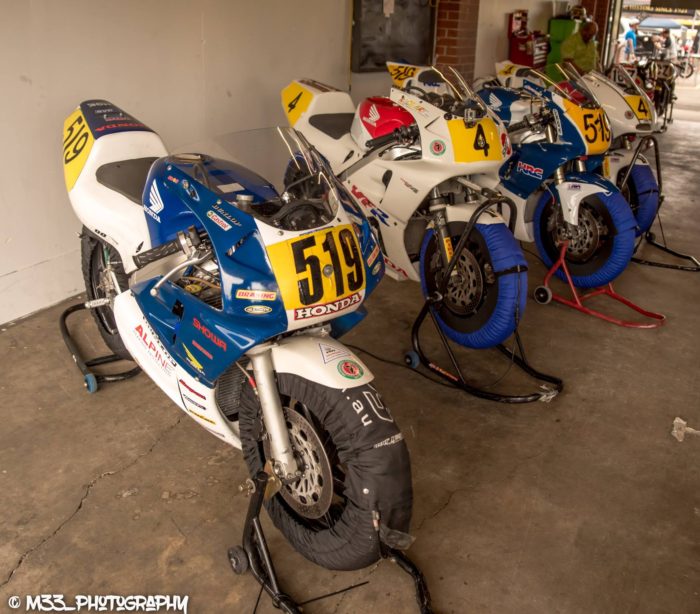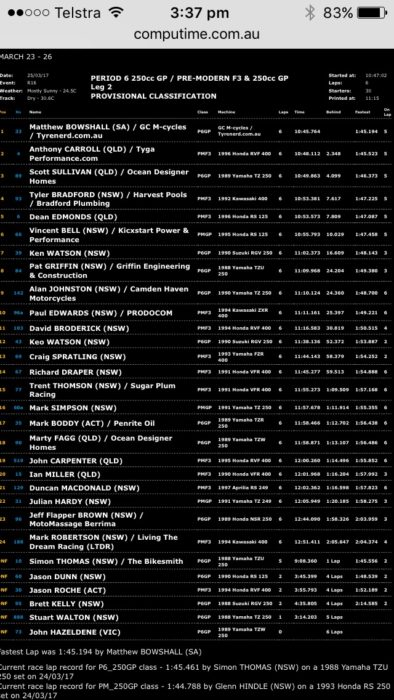 P6 500 was next out. I was starting on the 2nd row in position 4. I had still managed to get a good start and again by turn #2 remained in position 4.  I had changed a few ways I entered some corners and it was paying dividends. By the third lap I had passed a rider and now was in third. For the next 2 laps I tried to be consistent and held my position. On the last lap I was slowed by some back markers and this allowed the other riders to make up some ground. On the last turn before the straight I had to go around the outside of a slower rider and my entry on to the straight was a bit slower. I knew then I would be slip streamed towards the finish line, but by how many? I was lucky enough for it to be only one. So I finished in position 4. Best lap time: 1:46.104.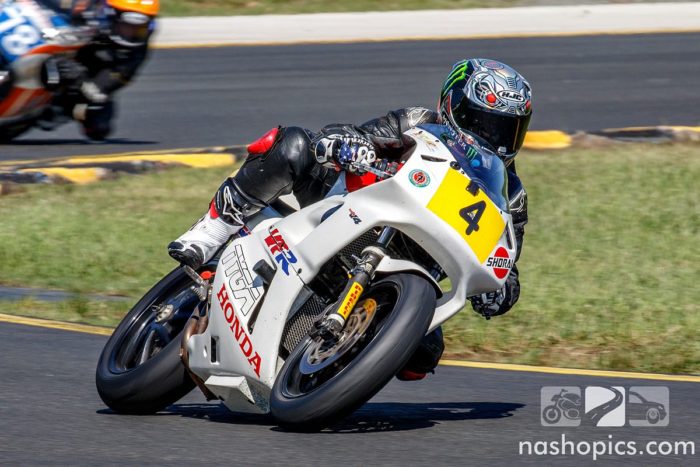 There was a delay due to a crash on the start. An immaculate Yamaha TZ750 crashed and caught on fire and was nearly burnt beyond recognition. I was told later its replacement cost was about $50.000!!! After the track was cleared the P6. 500 race was ready. I started in position 4 and after the start I was with the lead group. At the bottom of turn #6 a lead rider lost the front and was lucky not to be hit by the three of us but we all just managed to stay clear due to the evasive actions we displayed. I was in the lead group for about 3 laps but the front 2 slowly started to pull away. I kept with the next 2 and tried at passing a few times but couldn't manage to make a pass and I finished in position 5. Best lap time 1:45.772.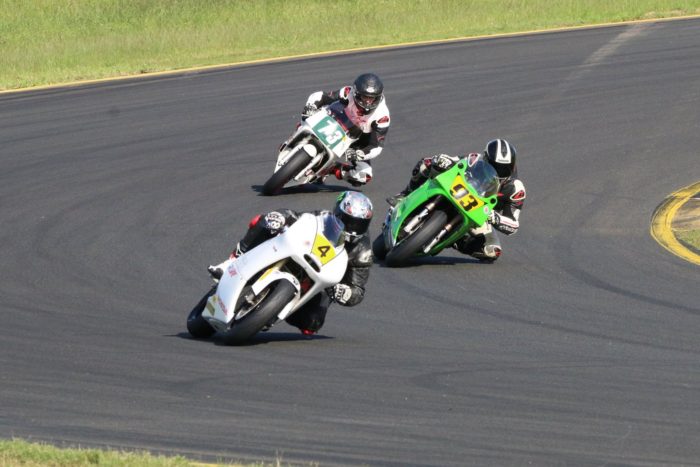 John Carpenter and I were the only 2 in our group who were on 400's. The others were all competing in P6 250 Production so during our wait for our races we both went and watched them compete. There was some great racing and watching father and sons trying to pass each other for bragging rights was a lot of fun. Back in the garage after their races it was good to hear all the excuses why one had beaten the other.
It was the final race for F3 for the weekend and if my math skills were correct a 2nd or 3rd would have me in a position to win the round. I started in position 3 and was second by turn #5. As I passed under the bridge for the left hander, the lead rider tucked the front half way around and caused a red flag. Back to the pits and we waited for our call back out. A restart was called and I had to do it all again. I tried to forget what position I needed to finish and just treated it like every other race. All went well and I finished in 5th and 2nd in my class to win the round.  Best lap time 1:47.607.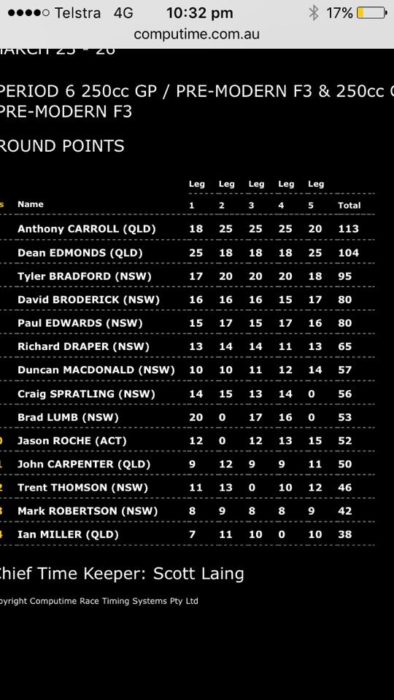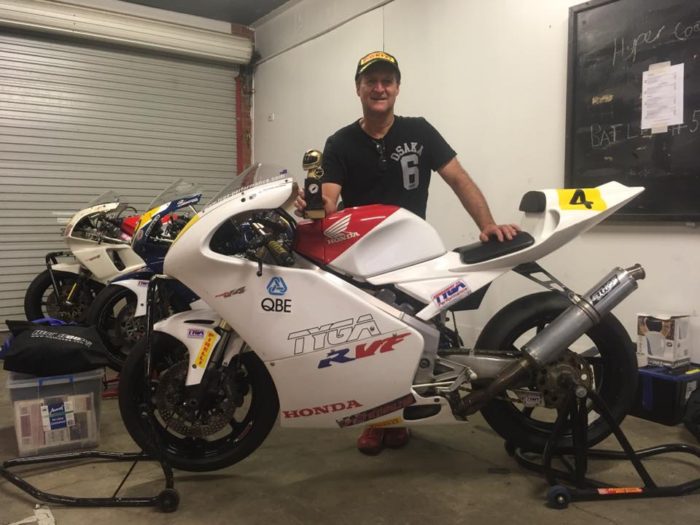 The final race for the weekend was P6 500. The race was reduced to 4 laps due to a few incidents that took some time to clean up. I started in position 4 and again I had a better start. I was in a good position again to make some passes but none would have been easy unless I made a huge dive under brakes. It was the last race so it was best to stay upright and take 4th place and top off a pretty good weekend. Best lap. 1:46.262.  I finished 4th overall in P6 500 and was very happy to finish this high due to the quality of opposition on the weekend.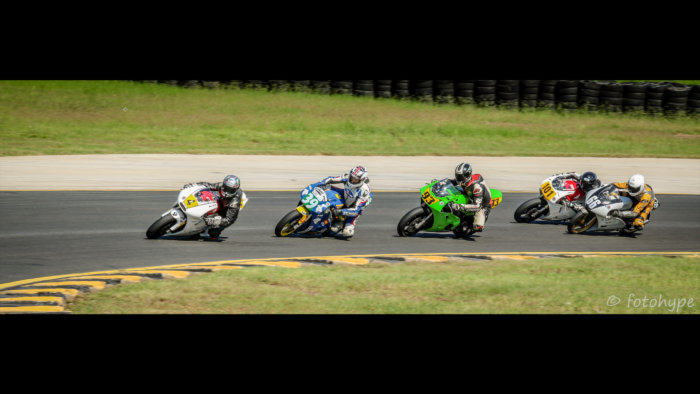 During breaks in races I got to meet and talk to some the greats of the motorcycle world, check out some amazing bikes but the best part was being able to compete in a huge event for historic racing. From only starting competitive road racing at the age of 53 years young, I have been on such a learning curve from the very first day. (When on my first race day I only completed 1 lap before crashing and thinking to myself maybe I am too old to start doing this!) I have been able to compete with many younger riders and still be competitive. If you have ever thought about trying it, give it a go. It is addictive. Hopefully we will travel to New Zealand for round 2 of the Trans Tasman Trophy in October this year. The 2 x Honda's ran without a fault all weekend and only had the oil/water and tyres checked. Not bad for for  21 and 27 year old bikes. I would like to thank tyga-performance.com for their assistance. PCRA for doing a great job of organising such a big event. All the motorcycle sportsmen members who made the weekend a great time.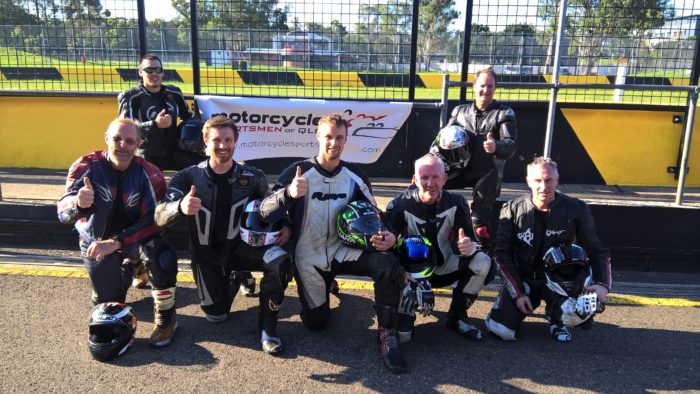 Race Videos: