We arrived Thursday morning to Morgan Park Raceway and proceeded to help with all the air fences that needed to be installed. It was cold and very windy, not the weather we had hoped for. The weather report said that by Friday  afternoon the wind would lessen and warmer temps would arrive.
I had brought out a new addition to race (Honda RVF400) and was eager to try it out on the Friday practice day. The bike started okay but on the track felt like it was running on 3 of 4 cylinders. I returned to the pits and tried a few obvious  fixes but these didn't work. The bike was put to the side and luckily I had my spare Honda VFR400 which I was able to use for the rest of the weekend.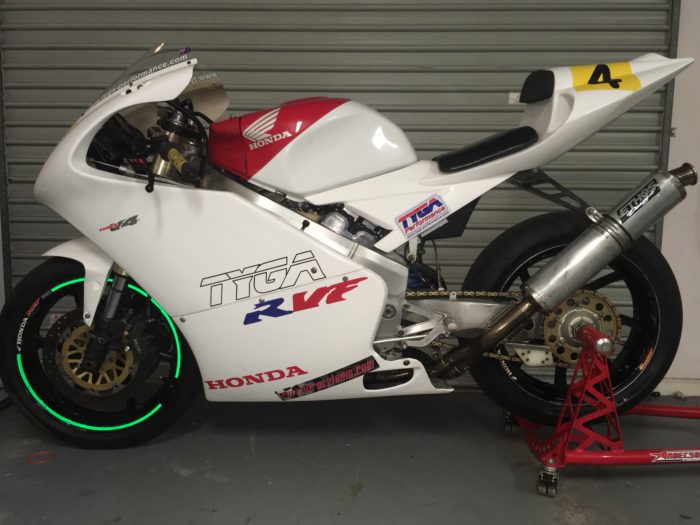 The race format for the weekend was qualifying Saturday morning with the first race that afternoon and 2 more on Sunday. It was a 15 minute session so there was a a pretty good chance of getting some clear track for a good run.
After doing about 9 laps I had finished with a time of 1:26.06 and this gave me pole position for the weekend. Next closest was 1:27.9.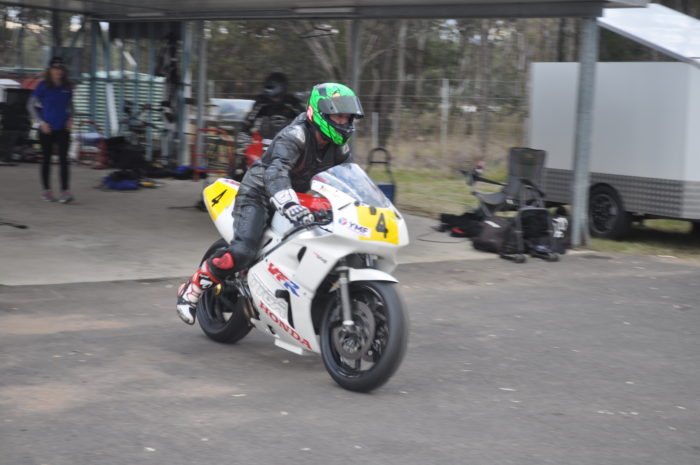 The weather had improved and out we all went for the start of our first race for the weekend. On this rare occasion I made a good start and was in the lead by turn #1. I had planned to try and do the first laps as fast as possible and get a gap from the rest of the field. On the third lap I had a quick look back and could only see some riders about 3-4 seconds behind. From then on I just tried to manage the gap in this 8 lap race.  I was still using a set of tyres from 2 rounds ago and they were working and wearing perfectly. At the completion of the race  I had finished 8 seconds ahead of the rest of the field. Best lap 1:26.3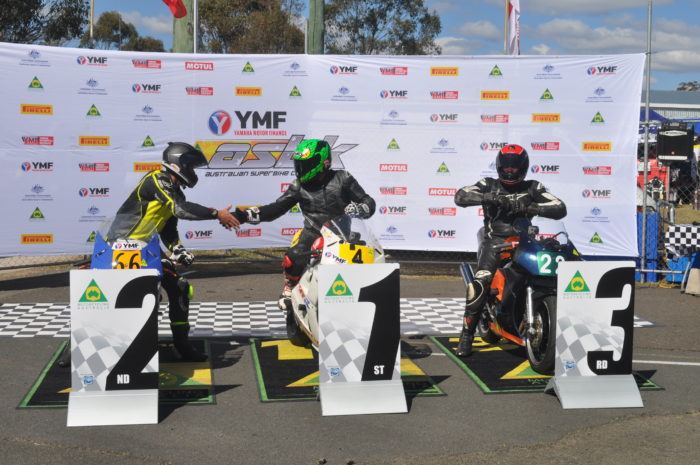 During the break between our next race I walked around and sold tickets for our club raffle and got to see some races and many trade stands that had been set up for the weekend.  Normally I don't get the time to do this as our races are not that far apart.
There were about ten different raffle prizes and one was a two up ride with either Troy Bayliss, Steve Martin or Shawn Giles. When the raffle was drawn I had won the two up ride!! (all above board). I wasn't sure if I would want to do this but in the end it was a great experience. I was paired with Steve Martin and I thoroughly enjoyed the experience.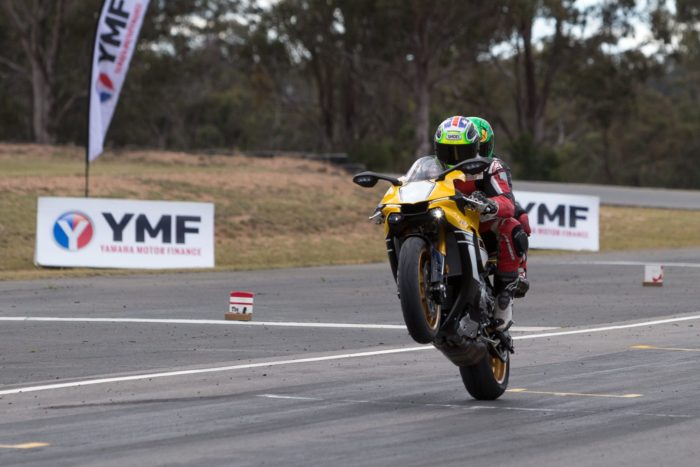 Sunday morning arrived and the place was filling up pretty fast. They were expecting large crowds and from what I could see it was looking like they were right. Race 2 was due to start so I headed out with the same Pirelli Supercorsas and again I had a decent start. The sun was shining and the temperature was a pleasant 19 degrees. During the first 2 laps Simon Dickson and Leigh Holmes were close by and by lap 3 had disappeared.  It wasn't until I came to turn 1 that I could see Simon had run off. I was later to find out that they had a coming together in turn 1 and Simon had come off but Leigh managed to stay upright. This gave me a comfortable lead and I finished in first place,  6 seconds in front of Chris Dunster. Best lap time of 1:26.5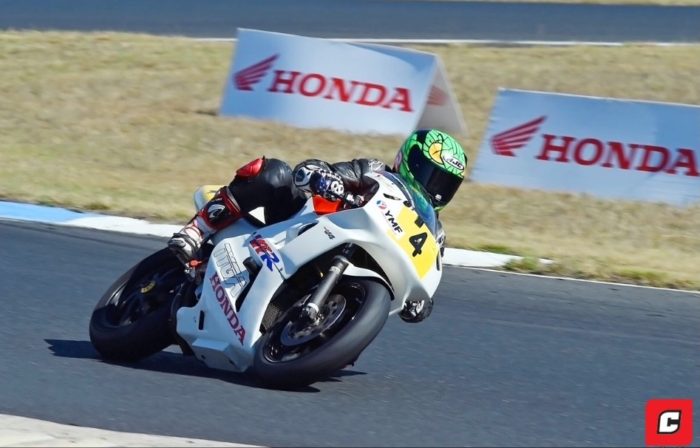 Our last race of the day was not until 4:30 pm so this gave us some time to go over the bike and check everything.  The tyres were still wearing well so I decided to use them for the last race. I walked around the pits and checked out some of the entertainment and guest riders being interviewed.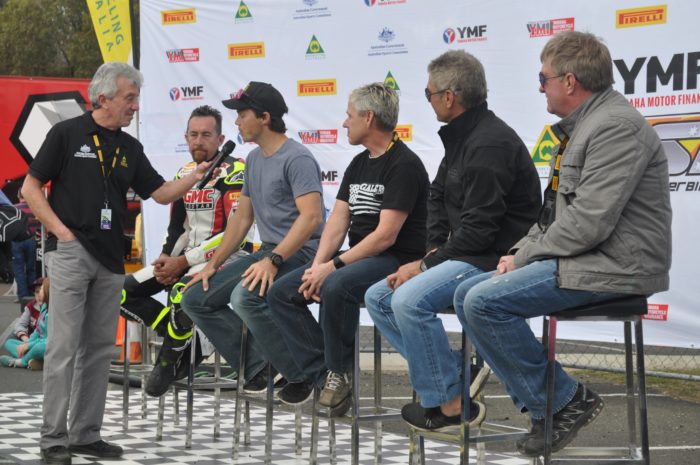 The last race of the day had arrived and the sun was setting. This made it very difficult to see coming into turn 3 and also making the kangaroos that frequent the track, even harder to see. My start was okay but I was in second position (behind Leigh Holmes) by turn 2 and by turn 4 was out braked by Simon, so I fell in behind the two of them and decided to follow and see what would happen. I was hoping Simon and Leigh would start swapping places and leave me to sneak in somewhere in the next few laps. By turn 6 Simon went up the inside of Leigh and ran him a little wide.  This left the inside open for me which I took advantage of.  I followed Simon to turn 8 where  I overtook him due to having more power, and was able to lead the race until the finish. This gave me 3 from 3 wins. Best lap  1:26.6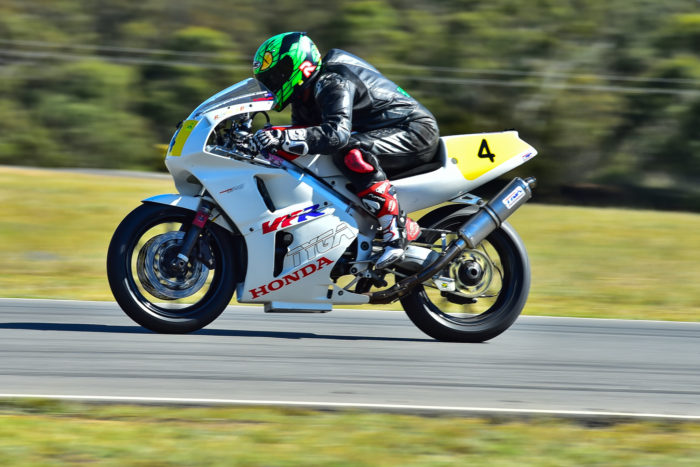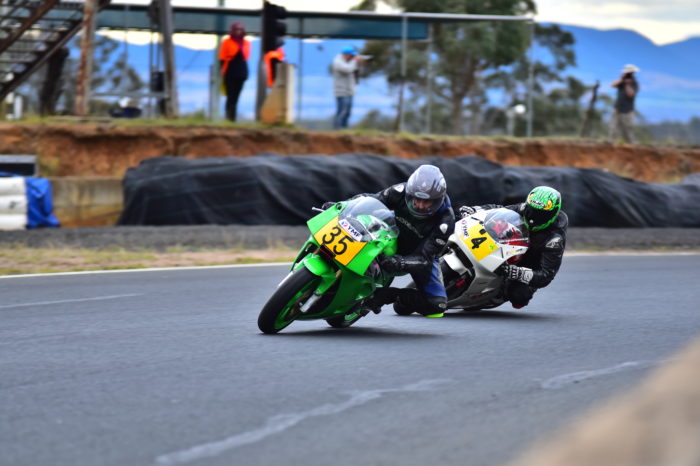 The 2016 Australin Superbike round at Morgan Park Raceway was a great event and all the people I spoke to over the weekend really enjoyed the racing and entertainment that followed.
I would like to thank all the flaggies, officials, fellow riders and support staff for a great weekend. Motorcycle Sportsmen Queensland.  Tyga-Performance.com and family. I will leave you with a few random photos taken over the weekend.