The weather was perfect for the Master of Morgan Park and Queensland Historic Road Race Championships held at  Warwick. With a low of 7 degrees and a high of 27 it was perfect weather for racing. Our team was entered in the P6 500 on a vfr400 and P6 Production on a cbr 250 rr.
We also entered the prestigious Gregg Hansford Trophy which is run each year at this event, on the vfr400. Initial sign on and riders briefing was done and the first qualifying event was for 250 production. With a best lap time 0f 1:29.9 this put me in position 4 on a combined  grid and in second for my class. Next out was the P6 500. With the colder temperature of about 18 degrees  I knew the lap times would be pretty quick. I managed a 1:26.32 only just enough to take pole position.
Race 1:  Honda CBR 250 rr.   I had a reasonable start and fell  behind Simon Dickson out of turn 1. By turn 4, Kieran Mcgeown had outbraked me into turn 4 so I decided to follow for the next couple of laps and see if there was any where I could make a clean pass. Kieran's pace was good and it was only in the second last lap that I got a good run out of the last turn and finally passed him down the front straight. I then tried to make no mistakes for the last two laps and finally finished in 6th position and 2nd in my class. Best lap time was 1:29.63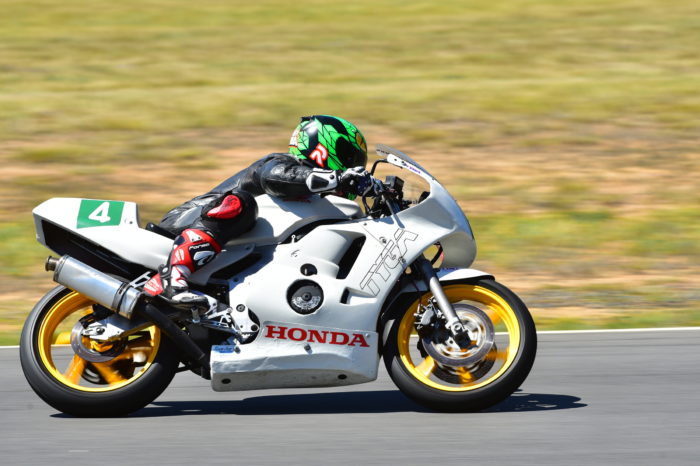 RACE 1:  Honda VFR 400R.  Starting in pole position,  I was 2nd by turn 1 and followed Callum Barker (SUZUKI GSXR 400).  At turn 7 we were met by about 10 kangaroos jumping across the track.  Instinctively I throttled off a little and this lost me about 5 metres. Coming around to turn 10 we were met by even more kangaroos and again I slowed (you never know which way they will decide to go). This now put me about 8-10 metres behind. The bike was really handling well and my confidence was good so I decided to really push the next lap. I don't think I have ever gone into turn one as fast before but it paid off and by turn 6, I had made up ground and got the best run out of turn 7 and passed Callum through turn 8-9. As soon as I made the pass I just tried to be as smooth as possible and rode as fast as I could for the next lap. As I came around turn 2 I saw Callum standing on the tyre wall. With just under 2 laps remaining I slowed a little and made sure I finished with no mistakes. When I got back to the pits I was informed that I had just broken the lap record!! Best lap time was 1:24.99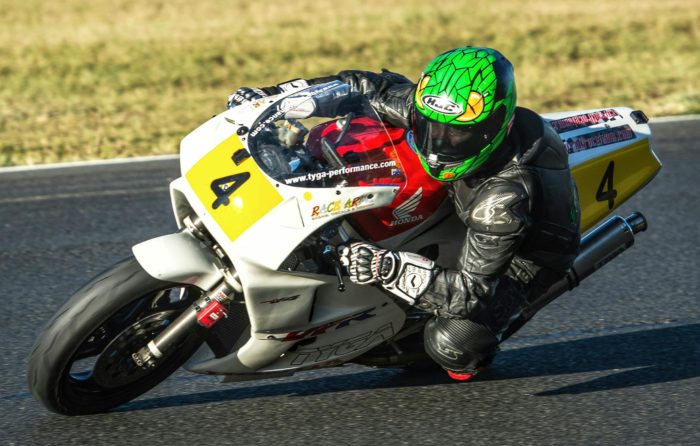 GREGG HANSFORD TROPHY RACE: All classes of bikes can enter this event and is divided into: up to 499cc and 500cc to 1300cc. Positions are allocated by your fastest time for the week end. My time put me in 8th position. I was off to a good start and in the second lap did my fastest time of the 6 lap race. I finished first in my class with a best lap of 1:26.48. 
RACE 2:   Honda CBR 250rr.   Lining up on the grid I noticed Simon Dickson was not there. The race started and I was in first for my class. This was a 6 lap race and I tried to be a smooth as possible into the braking areas. I have had trouble braking on the 250 so approached a it little differently trying to slow down the gear changes before each braking section. This seemed to be working and my times are coming down slowly. Simon Dickson had a deflating rear tyre and had to start from pit lane. This allowed me my first win in the 250 Production class. Best lap time. 1: 29.8.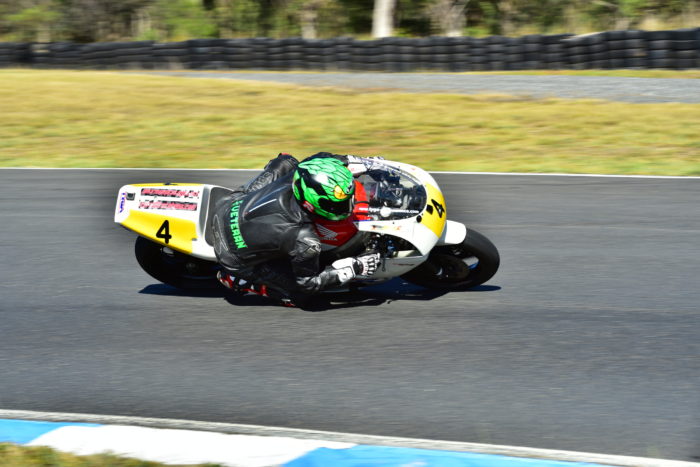 RACE 2: Honda VFR 400R.  Perfect weather was still with us and I slotted into second position  and followed for the first lap.  Lap 2 and I got a good run out of the last turn onto the straight.  As I passed for the lead into the first turn I felt the rear slide and so I backed off a little and it did it again. I looked down at the rear of the bike and could see nothing coming from the bike. By turn 6 the red flag was out and so I returned back to the pit to see what had happened. I again checked my bike and could see what looked to be water in the catch tray. The rider I passed into turn one had come off.  As the race was about to be restarted I headed back to my garage to see what the problem was.  After removing the fairings we found that the small  water connector to the head had cracked and was leaking.  It was decided it could be fixed so we pulled out the leaking parts.  The carburettors had to be removed which takes some time.  We repaired the connector and put the bike back together.  During this time I had missed out on the P6 500 and the Gregg Hansford race.  Any chance of winning was now over so I just tried to go out and finish every race and score some points.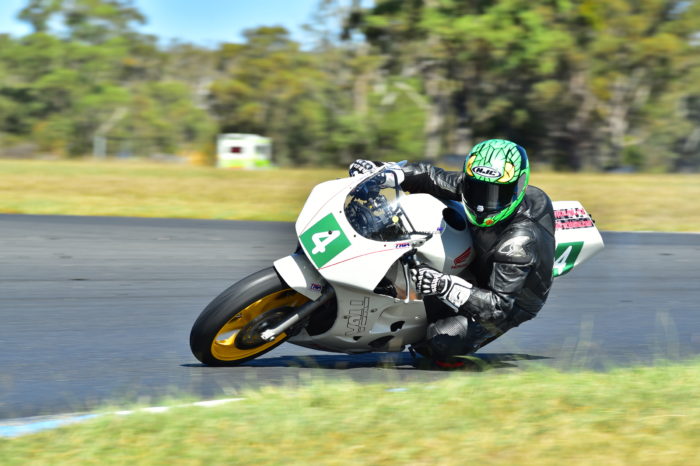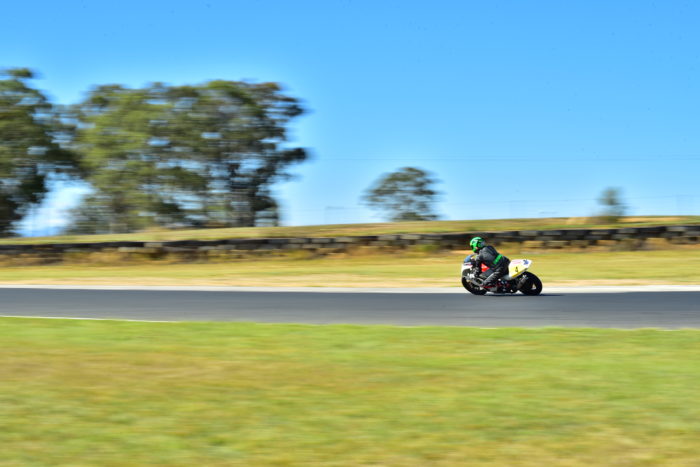 Gregg Hansford RACE 3:  As these races were progressive grids (start in the position you finished the last race) I had to start in last position.  My start was okay and by turn 1 I had passed 3 riders and I set my sights on the lead pack in P6 500. As I was coming out of turn 4 they were just tipping into turn 6. Through turn 7 and 9 I was able to pass 2 other riders and could now see Chris Dunster ahead. On the last lap I managed to get past and only just beat him to the line by .165 of a second. This put in first position for P6 500.  Best lap time. 1:25.5.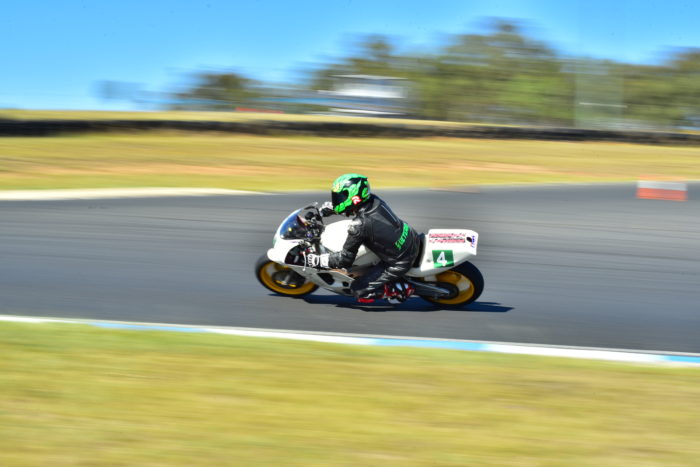 Overall it turned out to be a good weekend of racing and I managed to come away with some good results.
Even with missing two races I was able to break a lap record and win 3rd place in the Gregg Hansford  up to 499cc,
2nd place in the 250 production class and 2nd place in the P6 500 class.
I would like to thank TYGA-PERFORMANCE .COM racing products.
Motorcycle Sportsmen of QLD Club, Officials and Flaggies who volunteer and work tirelessly so we all can race.
Sheree, (my wife) and the real boss of carrolllraceteam.com
John Carpenter and Mojo Webb for their help in getting my bike back together.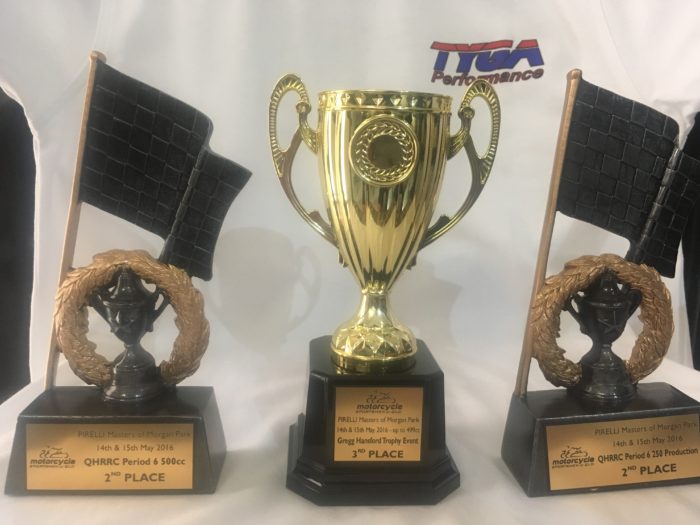 Round 3 of the Southern Downs Road Race Series is the 18-19 June.