Southern downs round : 1 race report.
Round 1 Race Report February 7-8: 2015 
Round one of the motorcycle sportsmen race series @ morgan park started with a huge entry list of riders competing in many classes.  For the first time there was also a class for people who have always wanted to race but were never really sure if they could. It was good to see they all had a great time and I hope that continues.  I was competing in the club's Formula 3 and Formula 4 races with a mix of bikes from Honda cbr250rr, Honda vfr400,Honda rvf400, Suzuki sv650, Kawasaki 300 and Suzuki rgv 250 and aprillia rs250 as well.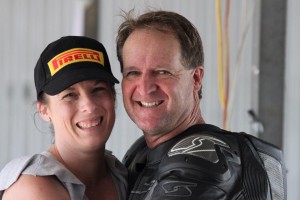 During the off season I decided to check the compression on my regular bike and found the cylinders to be down significantly, so the decision was made to swap over all the fairings and other parts i.e.,wheels, sub frame etc to a bike I bought with an unknown engine. It started and ran but I wasn't sure about anything after that. I made the decision to pack my spare bike just in case it wasn't any good.
Saturday morning was qualifying and then racing was held after midday and on Sunday. First time out on the "new' bike was a bit daunting as we only had 10 minutes to qualify in Formula 3.  The bike was ridden hard for about 3 minutes during the session and needed a lot of suspension changes when I got in as it was running wide everywhere and just didn't feel comfortable.  Another slight issue I had just as I was heading out was  the main zip on the front of my leathers broke so I had to jump off and put my spare ones on, causing me to miss about 7 minutes of qualifying (note to self : Lose some weight).
I only had about 15 minutes to change some settings before I was out again for Formula 4. The rear brake was sticking, the front brakes were spongy and I was having trouble stopping. The clutch was so hard to pull in as well. This is what happens when you don't get a chance to test the bike out before a race. Out I went for Formula 3 2nd qualifying session and the bike felt a bit better but it was hard work getting any good lap times.
I qualified in position 4 in Formula 3 which also had Formula 6 combined and in Formula 3 I qualified position 2 on the grid.
Formula 3 was my first race of the day. I had a bad start and got caught behind some Formula 6 bikes making the others in my class gain about 2 seconds on the first lap. After getting past 2 slower riders I put my head down and started to try and reel off some faster laps. By lap 4 (10 lap race) I was able to catch up and was now 3rd in my class. I was struggling to get the bike to turn or brake and when trying to pass was running wide (sorry Mojo)! I finally got passed but could not match the lap times that Jason was doing (1:26) and finished in 2nd position with a best lap of (1:28).
Formula 4 was another bad start  and so I had to play catch up again which really isn't the way to race.  The clutch was not  how I wanted it and was causing problems on the start. I was slowly getting more accustomed to the bike's handling because even though it was the same model as I rode last year it was very different in its handling characteristics. I made a mental note to do some more changes after this race. I finished in position 2 after some really close and good racing with Mojo Webb. Best lap of 1:274. Still a second off Jason's pace!
During the lunch break I took some preload from the front and added some dampening to the rear. The brakes were still not good and the clutch still very stiff.  It was also a very hot day and the heat was taking its toll on a few riders (like me)!
Sunday was another fine day and the temperature started to heat up very early. Grid positions remained static from Saturday's qualifying sessions.
Formula 3 was a replica of Saturday with a poor start putting me in behind some Formula 6 riders. Consequently, I was forced to follow for the first lap before I could make a pass up the inside. This allowed me to gap them due to the corner speed of the my vfr400 in the hope that they could not repass me on the straights. Eventually I caught up to the 2nd place rider (Mojo) who had been getting the best starts and was usually leading into turn 1. I followed him for 2 laps before making a move into turn 6. I finished 2nd with a time of 1:28 nearly 2 seconds a lap slower than Jason on his rvf400.
The next 3 races were similar and I had some good dices with Mojo Webb. My lap lap times did come down a little and we now have 3 weeks till round 2. The team boss has strongly suggested that I will need to do a little work on my bike in order to be able to consistently run a 1:26 lap time.
I would like to thank my wife Sheree, an integral and beautiful part of the Carrollraceteam.com for all her help during the race meets, keeping the pit running smoothly and ensuring that I make it to the grid on time. I would also like to thank the Motorcycle Sportsmen  for organising a well run event and a special thanks to all the flaggies, officials and volunteers.  Finally a big thank you to my fellow racers! Round 2 of the Southern Downs Road Race Series will be held on the 7th-8th of March.
Photos supplied by Nikki Carpenter                                                                                                                           
Leg 1 Formula 4
Leg 2 Formula 4 restart due to red flag  
Formula 4 .race 4 on board with Simon Dickson. Honda cbr250rr
Formula 4 Race 3 on board Team Tiger  Honda cbr250rr